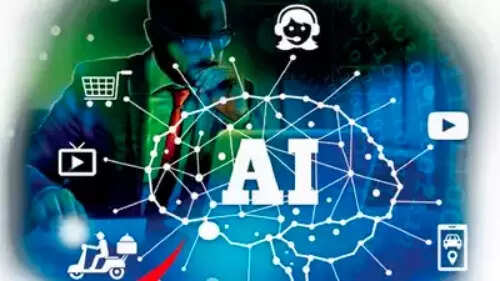 Analysts forecast that Artificial Intelligence (AI) will gradually replace around 5% of full-time
technology
or FTE roles annually over the next 4-5 years, according to an ET report. While AI-based automation solutions take over routine tasks, experts predict a rise in more strategic and decision-making positions. Roles involving AI ethics and sustainability practices are also expected to be in demand.
Prominent automation companies like ServiceNow and UiPath anticipate a shift in job profiles as enterprises refine their AI strategies.
Pat Casey, CTO of ServiceNow, noted that historical patterns show that the introduction of groundbreaking technology tends to generate more new work. "If you look at the larger tech ecosystem, there is always a dearth of engineering talent. So, if certain jobs are automated, it will not mean that people will become jobless, just that they work on more value-added work elsewhere" Casey told ET.
A study by McKinsey Global Institute in June revealed that the US may require around 12 million occupational transitions by 2030 due to AI advancements. The most notable productivity shifts are predicted in marketing, sales, customer operations, and product/software development.
Pareekh Jain, an outsourcing expert, estimates that about 5% of FTE roles annually will evolve into new roles as they are automated by AI tools. Jain highlighted that the changes would occur primarily in support roles lacking significant decision-making requirements. He also added that no major shift will happen overnight and that the immediate impact would be on low-level jobs. The long-term impact, he emphasized, would be small.
Rob Enslin, co-CEO of UiPath, emphasized the identification of inefficiencies as a key concern for their clients. Kunal Purohit, Chief Digital Officer of Tech Mahindra, highlighted the potential for 35-45% efficiency improvements companies using AI and automation tools can see. The conversation with clients, Purohit mentioned, is shifting towards enhancing efficiency in specific use cases rather than focusing solely on FTE saving.
Hansa Iyengar, senior principal analyst at Omdia, stated that the introduction of AI is more likely to create new types of jobs, such as prompt engineers, which will be a higher value add than standard support roles.
As AI replaces FTEs, the demand will grow for capabilities like data science, AI/ML, automation, analytics, and cybersecurity, according to DD Mishra, senior director analyst at Gartner. Mishra also noted that sustainability consulting and other consulting services will experience increased demand.
"What will be new and disruptive is going to be autonomous business which will be dominated by autonomous operations, augmented management, smart products, and machine customers and lead to an emerging programmable economy," he told ET.
Sandeep Kalra, CEO of Persistent Systems, anticipates a broader utilization of AI tools to empower employees rather than replacing opportunities. Upskilling programs will be essential to equip employees with the necessary skills to effectively leverage AI tools for increased productivity.




POST AUTHOR:

Source link