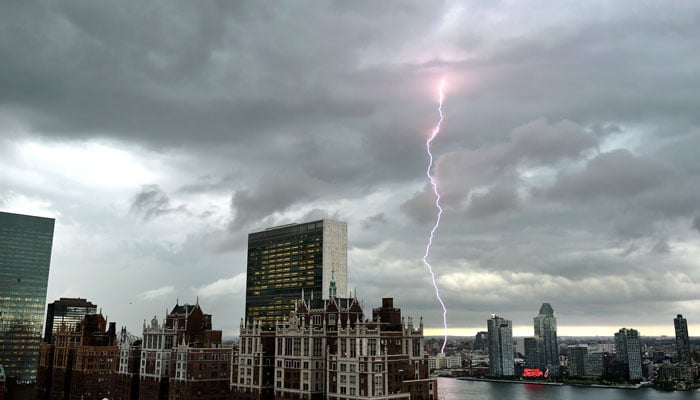 The National Weather Service (NWS) on Sunday said that a severe thunderstorm warning has been issued for seveal North Carolina counties in the United States. 
According to CBS17, thunderstorms and flood warnings are in effect for many counties in central North Carolina. 
The NWS issued a flash flood warning for northwestern Chatham County at around 12:24pm, saying that the rainfall rate is expected to be about 2 inches per hour. 
Chatham, Durham, Wake, Lee, Granville, Orange, Person, Northwestern Moore, and Alamance are the counties where the warning has been issued through 1:15pm. 
Meanwhile, Fox18 reported that a tornado warning has been issued for the two North Carolina — Guilford County and Alamance County.
A severe thunderstorm capable of producing a tornado was located near Elon at 11:57am, which is about seven miles northwest of Burlington. 
As per the details, the storms are moving east with a speed of 35 miles per hour. It will reach Burlington at around 12:10pm and Graham at around 12:15pm.
The storm can bring several hazards with it such as flying debris which is extremely dangerous to those who do not have a shelter for protection. Moreover, mobile homes are expected to be damaged or destroyed. 
Roofs, windows and vehicles can be damaged and there is likely to be tree damage as well. 
The NWS has also issued some instructions for the residents during this time. It has asked people to take cover instantly by moving to a basement or an interior room on the lowest floor of a sturdy building.
People are also advised to avoid windows. In case anyone is outside their house. in a mobile home, or in a vehicle, they are advised to move to the closest substantial shelter and protect themselves from flying debris.
Moreover, there is also a severe thunderstorm warning in both counties. 


POST AUTHOR:

Source link