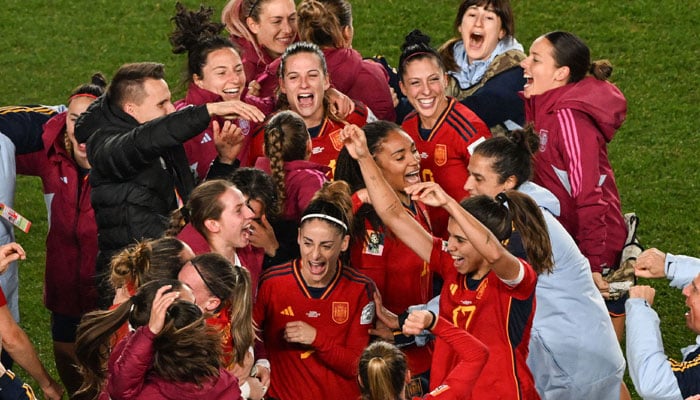 Spain's women's soccer team secured a spot in the final of the FIFA Women's World Cup 2023 with a last-minute thriller win against Sweden on Tuesday.
Spanish captain Olga Carmona scored in the 89th minute, setting off jubilant scenes of celebration among their supporters at Eden Park, Auckland.
Sweden, who had previously suffered consecutive World Cup semi-final losses, managed a swift equalizer through Rebecka Blomqvist just 93 seconds before, hinting at the prospect of extra time.
The match's rhythm transformed after a relatively uneventful first 80 minutes when 19-year-old substitute Salma Paralluelo broke the deadlock, giving Spain the lead with a mere 10 minutes left on the clock.
Spain's triumph sets the stage for a final showdown against the victor of the England versus Australia match, scheduled for Sunday in Sydney. This intense semi-final showdown between the Lionesses and the co-hosts will be broadcast live on BBC on Wednesday.
As the game concluded, Spanish players celebrated on the field, while Sweden's players dropped to the ground after their World Cup aspirations shattered. The initial 80 minutes had seen cautious and cagey play on both sides.
Throughout the match, Spain dominated possession, yet Sweden's resolute defence, a hallmark of their past month's performance, often thwarted their advances.
The decisive moment arrived as Paralluelo, also the scorer of the quarter-final winner against the Netherlands kept her composure and fired Spain into the lead. Subsequently, substitute Blomqvist equalized for Sweden. Just as extra time loomed, Carmona's shot, deflecting off the bar following a corner, sent Spain to the final.
Sweden's journey ended in heartbreak as they lost their fourth World Cup semi-final, despite impressive wins against past champions the United States and Japan. 


POST AUTHOR:

Source link