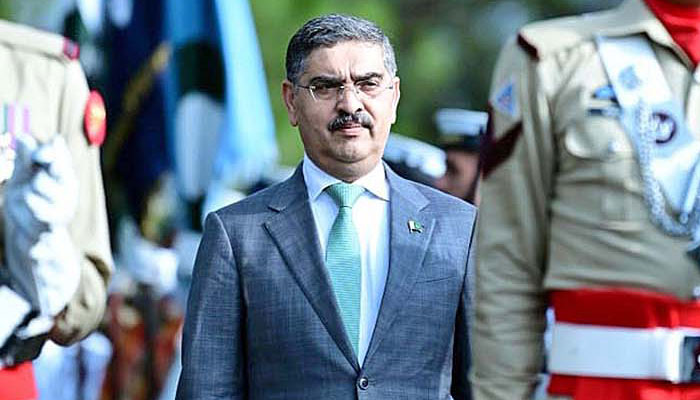 Stern action would be taken against those who target minorities: Kakar.
PPP Chairman Bilawal Bhutto-Zardari also condemns incident.
"Violating sanctity of places of worship is absolutely unacceptable."
---
Caretaker Prime Minister Anwaar-ul-Haq Kakar on Wednesday directed law enforcement agencies to apprehend culprits behind the vandalisation of churches in Jaranwala, Faisalabad over blasphemy allegations.
"I am gutted by the visuals coming out of Jaranwala, Faisalabad. Stern action would be taken against those who violate law and target minorities," said Kakar in a post on X, the microblogging website formerly known as Twitter.
The interim premier also said that all law enforcement agencies have asked to "apprehend culprits and bring them to justice".
"Rest assured that the government of Pakistan stands with our citizenry on equal basis," he added.
Former prime minister Shehbaz Sharif also slammed the incident, saying: "What is happening in Jaranwala is sad and disturbing."
"There is no place for violence in any religion. All religious places, Books and personages are sacred and deserve our highest level of respect. I urge the government to take action against the culprits," the Pakistan Muslim League-Nawaz (PML-N) president added.
The former premier also appealed to the "religious scholars from all schools of thought to come forward and condemn the reprehensible actions".
"Such madness can't be allowed. Pakistan belongs to all religious minorities," Shehbaz on X said.
Meanwhile, Pakistan Peoples Party (PPP) Chairman Bilawal Bhutto-Zardari also condemned the incident.
"Horrified to hear about the attack on Churches in Jaranwala, Faisalabad, violating the sanctity of places of worship is absolutely unacceptable. The administration must ensure the safety of the Christian community and their Churches," Bilawal on X said.
Earlier today, a crowd vandalised several churches and setting scores of houses on fire after accusing the Christian community of its members over alleged blasphemy.
The incident took place in Jaranwala town of the industrial district of Faisalabad, police spokesman Naveed Ahmad said. A mob had attacked the community after two Christians were accused of blasphemy, he said.
Dozens of people were blocking a nearby highway.
The local administration has called in paramilitary troops to handle the violent crowd and bring the situation under control, according to a government order seen by Reuters.
A Christian leader, Akmal Bhatti, said the crowd had torched at least five churches and looted valuables from houses that had been abandoned by their owners after clerics made announcements in mosques inciting the mob.
Several social media posts showed some churches on fire as well as houses and belongings.


POST AUTHOR:

Source link