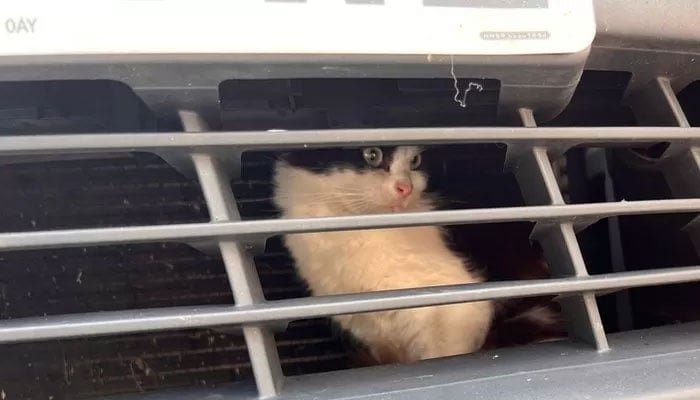 A cab driver from Tonyrefial was utterly surprised when he found a kitten stuck behind the grille of his taxi after a whopping 500-mile round trip.
The cat was found after the driver Tom Hutchings returned home to Tonyrefail after driving to Bristol Airport, Llanelli, Cardiff and Treherbert.
The driver then took the cat for a check-up, and she turned out to have been missing from home for a week.
Tom said that he thought the owners had given up ever seeing her again.
The cat was discovered last week when the 32-year-old's fiancee noticed something odd after he pulled up outside their house in his Mercedes-Benz Citan.
"She told me to look behind the grille — I had no idea what she'd seen or what might be in there," said Tom, who's been running Tommy's Taxis for only a few months.
"I definitely didn't expect to see this little pink nose and a pair of green eyes suddenly appear just centimetres away from my face."
With his toolbox in hand, he successfully detached the front bumper and carefully lifted out the cat. He then transported her to a nearby vet.
"Her exhaustion was evident; she dozed off rapidly on the passenger seat beside me," he recounted.
Following a clean bill of health, a brief online search unveiled that the feline, named Gizmo, had been missing from her Miskin home for a week.
Tom remarked, "Her owners had lost hope of her return. How she journeyed from Miskin to Tonyrefail remains a puzzle."
Covering a distance of six to seven miles, the route puzzled Tom, who hypothesized she may have caught a ride with passing industrial lorries.


POST AUTHOR:

Source link