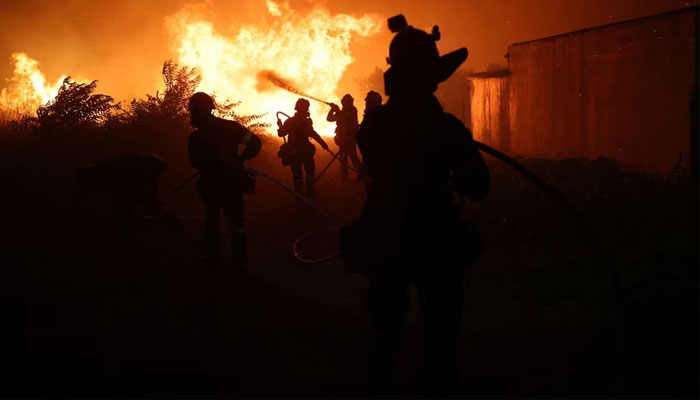 Bodies of 18 people — who the fire brigade officials have identified as migrants — have been found as Greece is ravaged by wildfires on Tuesday. 
Another fatality was reported near Athens on Monday. 
The Greek fire brigade is currently battling 65 wildfires, with over 20 countries across the region under heat warnings due to unprecedented temperatures.
Yiannis Artopios of the Greek fire brigade reported that around 65 wildfires have erupted in Greece over the past few days, leading to hundreds of firefighters being deployed.
The town of Alexandroupolis in the northeast has been grappling with severe wildfires, forcing evacuations and even hospital patient relocations.
Talking to Reuters, an Alexandroupolis Hospital Nurse, Nikos Gioktsidis, compared the situation to war. She said: "I've been working for 27 years, I've never seen anything like this. It's like war conditions, really."
Response to the crisis
In response, the European Union has dispatched firefighting assistance from Cyprus and Romania to help Greece manage the situation. The European Union's Copernicus Emergency Management Service has documented that over 8,500 hectares have been consumed by fires as of Monday.
The severity of the situation is reflected in the declaration by Yiannis Artopios that Greece is under a "Category 5" state of emergency due to the combined impact of high temperatures and strong winds.
This year, Greece has faced a devastating wildfire season, experiencing its most severe recorded fires in July since at least 2003. The relentless fires, combined with the ongoing heatwave, have thrust Greece and several other European nations into a challenging battle against the forces of nature.
Blazes across Europe
Uncontrolled wildfires are ravaging Spain's Canary Islands, resulting in the evacuation of 12,000 residents. Spanish Prime Minister Pedro Sánchez intends to label the affected regions as "disaster zones" once the fires are contained.
While Greece and Spain grapple with fires, other European nations also face unprecedented temperatures. Heat alerts encompass 21 countries, with six under the highest red heat warnings, according to MeteoAlarm, a European weather network.
France's fiery situation
France, particularly impacted, witnessed its most intense heatwave of 2023, defying seasonal norms. Four French departments received "red-level" heatwave alerts.
Searing Italy
Italian cities battle soaring temperatures, with Savona recording an all-time high of 39.1°C on Monday. Switzerland faces a similar challenge, with a record-breaking freezing level of 5,298 meters.
Concerns for Swiss glaciers
Persisting high temperatures raise alarm about Swiss glaciers' condition, following a 6% volume loss last year.
The ongoing European heatwave is forecasted to persist until Wednesday before a cooling trend arrives. Scientists stress that human-caused climate change drives such extreme weather events, supported by record-breaking global temperatures in July 2023 and the influence of the Mediterranean and US heatwaves.


POST AUTHOR:

Source link