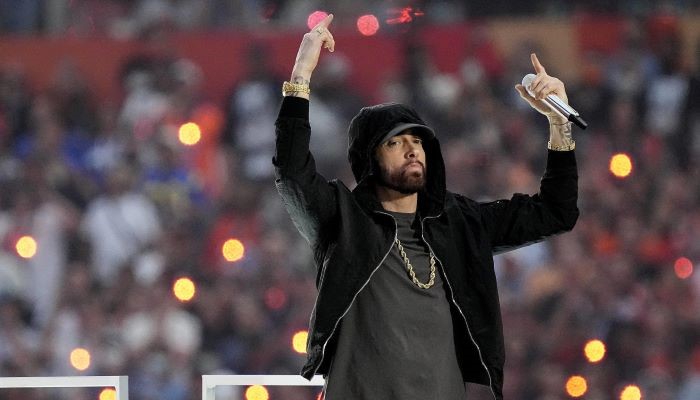 Eminem, the well-known American rapper, seems to be on the verge of making his way to Australia soon.
Rumors had circulated that the 50-year-old artist might embark on a tour in Australia during 2023. However, the likelihood of this happening next year appears to be growing, as multiple sources suggest.
Paul Dainty, the Australian tour promoter for Eminem, is actively working towards securing the hip-hop sensation for grand stadium performances in 2024. 
Speaking with the Herald Sun's Page 13, Dainty explained that while no concrete arrangements have been made in terms of dates or venues, discussions are underway. He expressed optimism, saying, "Nothing is locked in, there are no dates or venues yet, but we're hoping. We are in talks."
Should Eminem give his nod of approval, he will join an impressive lineup of superstars set to grace stadiums during the upcoming summer season. This roster includes renowned names like The Weeknd, Paul McCartney, Motley Crue, Def Leppard, Foo Fighters, Pink, and Taylor Swift.
Earlier in the year, reports indicated that Eminem was actively engaged in negotiations to bring his show to Australia. However, there was no clear indication at the time that these shows would take place in stadiums.
According to radio host Mark 'Roo' Ricciuto, while the tour has not been definitively confirmed, discussions are ongoing. In a broadcast on his show, 104.7 Triple M, in June, Mark shared insights from a source who suggested that the tour was likely to occur in the early to mid part of the following year. This source's information contrasted with claims that Eminem might make his way to Australia at the end of 2023.
Mark conveyed, "They're 100 per cent in negotiations… but it's not done yet. Ticketek are involved and Adelaide Oval." He added, "It won't be in 2023… it will be between the Adelaide Oval Test match against the West Indies and Round 1 of the football." Based on this timeline, the concert dates could fall anywhere between late January 2024 and mid-March 2024.


POST AUTHOR:

Source link