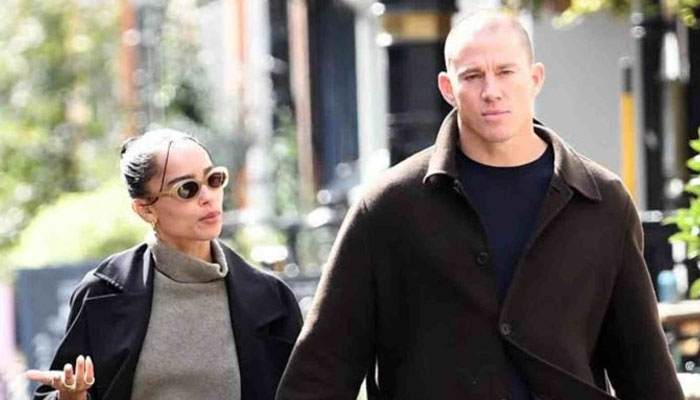 Channing Tatum and Zoë Kravitz have reportedly changed their minds about marriage after previously making it clear that neither of them are interested in tying the knot again.
The Magic Mike actor and the Batman star's previous marriages ended in divorce which has made them reluctant to go down that road again, as evident by their previous interviews.
However, after attending the nuptials of Margaret Qualley and Jack Antonoff, the couple unexpectedly had a change of mind, an insider told In Touch Weekly.
The source revealed that while the lovebirds may not be ready to exchange vows right away, but now marriage is on cards for them.
"They didn't expect it, but they were both really moved by the ceremony, and it got them thinking," the insider said. "Channing has hinted about popping the question, but they both had marriages that ended in divorce, so neither of them was in any real rush."
"They're super compatible and see a future together, but they didn't want to jinx a good thing," the insider said of the duo whose love story began on the set of Pussy Island.
"The wedding definitely pushed them closer to the altar," the insider said referring to Qualley and Antonoff's star-studded nuptials.
Channing Tatum says he might never get married again
Previously, while discussing his divorce from Jenna Dewan, Tatum told Vanity Fair, "I don't know if I'm ever going to get married again."
"Relationships are hard for me. Even though I am a bit of a monogamist," he explained. "In business, I have no real fear of anything being destroyed."
"But heart things, when it comes to people I love, I have a really hard time. I end up trying too hard, you know?" he added.
Zoe Kravits on not being sure about marriage 
As for Kravitz, she, too, is not ready to tie the knot again. She told GQ, "Maybe I don't want the thing that I'm supposed to want, a marriage, children, any of it. I don't know if I want that at all."
Kravitz said that even though she finds domestic life "exciting" in some ways, she "realize[d] there's still a lot of life to be had."
"I'm done romanticizing the 'old is domestic' thing. It's cute for a minute and then it's not," she told the outlet.


POST AUTHOR:

Source link