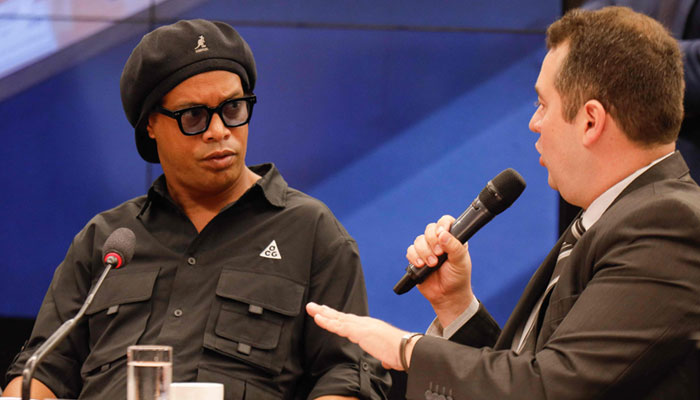 Ronaldinho Gaucho, the retired Brazilian football star, has strongly refuted allegations of his involvement in a cryptocurrency scam that has gained national attention for duping victims with false promises of profitable investments. 
Speaking before a congressional committee, Ronaldinho, also known as Ronaldo de Assis Moreira, clarified that he has no association with the company named 18k Ronaldinho Comércio e Participações Ltda. 
He explained, "They used my name to create the company's name," as reported by the National Congress of Brazil's lower house. 
Ronaldinho revealed that he had signed a contract with a US company, 18k Watch Corporation, in 2016 to design a collection of watches featuring his image. 
However, it wasn't indicated whether these two companies are linked.
In 2020, Ronaldinho became a defendant in a class action lawsuit filed by Brazil's consumer relations institute, demanding 300 million reais (around $60.66 million) in damages suffered by 18k's clients. That same year, Ronaldinho and his brother faced a 171-day imprisonment in Paraguay for using fake passports.
Having earned FIFA World Player of the Year titles in 2004 and 2005, and winning the World Cup with Brazil in 2002, as well as the Champions League with Barcelona in 2006, Ronaldinho's football achievements are notable. 
During the congressional hearing, Ricardo Silva, the rapporteur of the enquiry, questioned whether Ronaldinho had taken legal action against the company for the unauthorised use of his image. Ronaldinho responded that his brother handled such matters.
The retired football legend, Ronaldinho, categorically rejected any connection to the cryptocurrency scam during his appearance at the Brazilian congressional hearing. He shed light on the misuse of his identity by the alleged fraudulent scheme, while also clarifying the circumstances surrounding his contract with a US company in 2016.


POST AUTHOR:

Source link