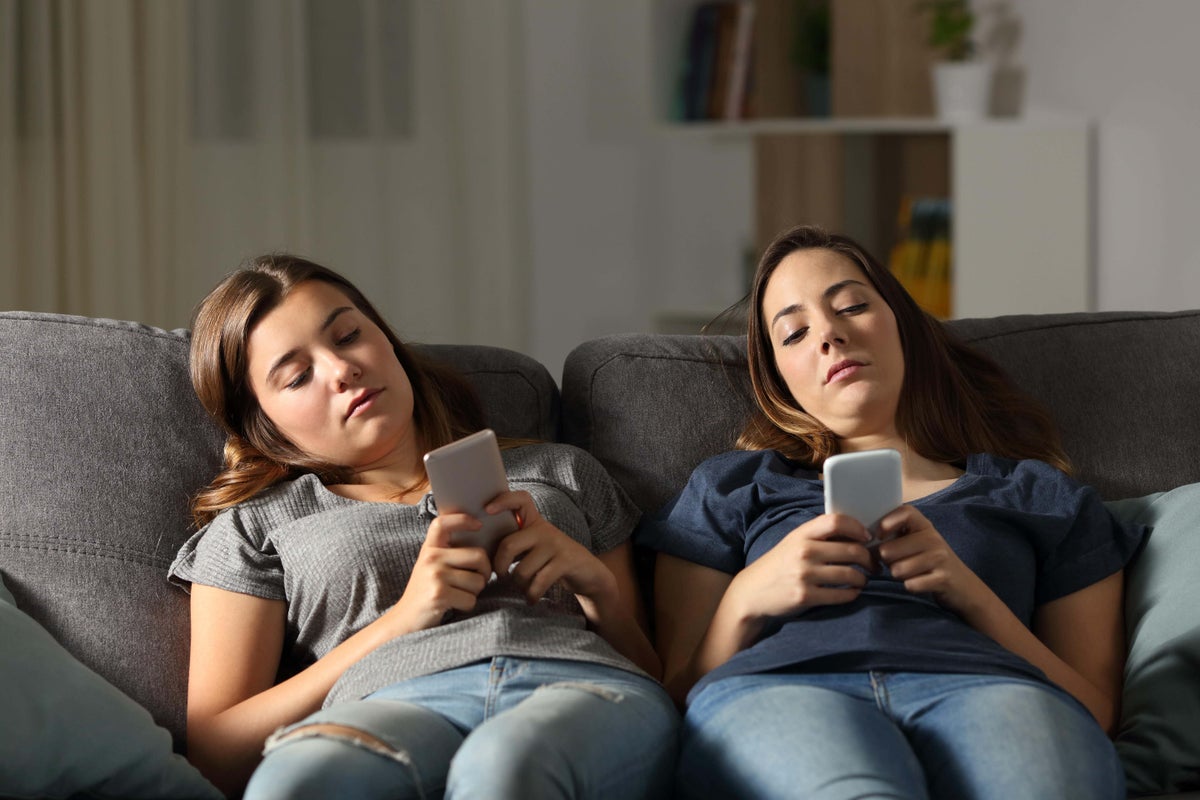 The amount of screen time teenagers get is a worry to lots of parents.
And, it turns out, the health impacts of being inside and staring at a screen for long periods of time can have a serious impact on a young person's physical health later in life.
According to new research, parents should limit the amount of time children spend on social media and video games after a study found inactive teenagers are more likely to have signs of heart damage as young adults.
A child may appear healthy but, even children who have a normal weight were still at risk, the study of 766 British youngsters found, after tracking them for 13 years.
Academics involved in the research, which is to be published at the ESC Congress in Amsterdam, said that this heart damage could be setting the stage for heart attacks and strokes in later life.
So, how can we get teens up, away from their phones and out of the house?
1. Encourage them to destress
Teens may take to their screens to distract themselves from day-to-day life, watch TikToks, or aimlessly scroll – which they may see this as a form of relaxation.
It might be helpful to frame exercise in the same way for stressed teens.
"Young people today are facing many stress factors in their daily lives and exercise can be an important mechanism to cope and overcome such difficulties," says Dr Triveni Joshi, consultant child and adolescent psychiatrist for Cygnet Health Care.
Reiterate the benefits of exercise for their mental wellbeing too. "When you exercise, your body produces dopamine and endorphins in your brain that help you to feel good. Exercise can have a direct impact on improving mental health by reducing anxiety, depression and low mood," she says.
"Plus, exercise can give you a real sense of accomplishment and pride at having achieved a goal, thereby improving self-esteem and confidence."
Celebrate the accomplishment of just getting out and being healthy for positive reinforcement.
2. Suggest things that interest them
"There is always an activity that can suit somebody," says Joshi."There is a range of opportunities for physical activity such as gardening, walking groups, Zumba, dancing, pilates, or swimming."
Sports like weightlifting and running are big on social media and "can improve confidence levels and tackle low self-esteem." While being on social media may stop them from getting out, pointing towards creators who promote a healthier lifestyle may help them in the long run.
Perhaps they can pair their on-screen interests and favourite creators with physical experiences.
"Exercise should always be fun so often it is about finding where their interests lie and incorporating that into a healthy regime," Joshi explains.
3. Talk to them about why they don't want to exercise
There may be a reason why your teen isn't eager to get up and about you don't know about, and having an open discussion may help them feel more comfortable, and build a closer bond with you.
"With other pressures in their lives they may feel tired and lack the motivation to get active," Joshi says.
"A lot can depend on personality type too. Introverted children may feel shy, embarrassed, or too concerned about judgements to take part in physical activity. It might not pique their interest or they may feel it is something they aren't skilful at and therefore don't have the motivation for fear of not being good at something."
Getting to the bottom of why they won't exercise may help them feel more empowered to do so, particularly if you can relate to one another and take on this challenge together.
4. Set a good example
So much of our relationship with exercise is rooted in our childhood, so try to "encourage children to be active by setting the right example and being active yourself", says Joshi.
If you complain about exercise and are on your screen all the time, it sends the message that it's normal.
In trying to set a good example, you may find something you love to do together, like a specific yoga class, workout or weekly ParkRun.


POST AUTHOR: Imy Brighty-Potts

Source link