Meet Ezra, the full-body cancer screener that just might save your life.
Combining MRI imaging technology with artificial intelligence, Ezra scans for possible cancer in the human body in up to 13 organs. It also monitors for hundreds of other conditions, such as brain aneurysms or fatty liver disease.
The New York-based company just received FDA clearance to implement another level of AI — called Ezra Flash — that will enhance the imaging results of the scans to enable faster, higher-quality results at a lower cost.
AI IN DENTISTRY: RESEARCHERS FIND THAT ARTIFICIAL INTELLIGENCE CAN CREATE BETTER DENTAL CROWNS
"Our current 60-minute scan is $1,950, but with the new AI, the faster 30-minute scan will be $1,350," said Emi Gal, founder and CEO of Ezra, in an interview with Fox News Digital. 
"Ultimately, our goal is to create a $500 full-body MRI that anyone can afford," he also said.
The inspiration for Ezra came from Gal's own personal motivation to help people find cancer early. He is at a high risk for developing melanoma — and his mother passed away from the disease.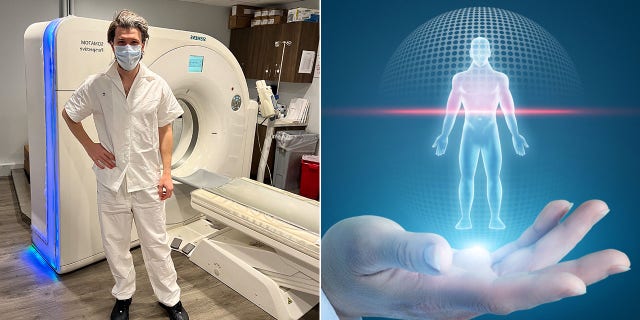 "I strongly believe that the cure for cancer is early detection," Gal said. 
"The five-year survival rates are significantly higher for people who find cancer early."
While some cancers have very clear screening guidelines — mammograms for breast cancer and colonoscopies for colon cancer, for example — most types don't have screening procedures available, he explained.
That means for cancers of the pancreas, liver or brain, most people don't get diagnosed until they have symptoms, said Gal. 
"Everyone should have the right to know what is going on in their body."
Ezra is now in use in New York, San Francisco, Los Angeles, Miami and Las Vegas. The company partners with existing ACR (American College of Radiology)-accredited facilities, where the scans are performed. 
"We've scanned just under 5,000 people and we've helped 13% of our members find possible cancer," Gal said. 
More and more physicians are referring their patients for Ezra scans, he noted.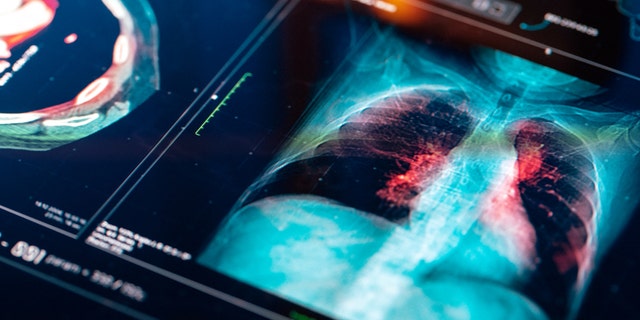 "We now have about 200 physicians," he said. "These are mainly primary care physicians who send their patients to get scans proactively."
The main feedback they've received from members is that they love Ezra, but it's too expensive to do every year and needs to be more affordable.
"That's what we've been working on for the past year-and-a-half now, and that's what this new AI will enable," Gal said.
Here's how Ezra works
The current 60-minute version of Ezra uses two different types of artificial intelligence.
One of those automates some of the things radiologists do when reading a scan. 
"For example, when a radiologist looks at a prostate MRI, they need to measure the size of the prostate and the size of any lesions, and they need to draw a circle around the lesions for biopsy prep," Gal explained. 
"All of that is automated using AI, which makes radiologists faster and lowers our costs, which enables us to pass those savings on to consumers."
"We want to make booking your screening as easy as booking an Uber."
The other type of AI helps with the reporting side — it produces a radiology report and "translates" it into a clear, understandable format, Gal said.
"For example, if you have a 6-millimeter nodule in your thyroid, the AI explains what that means, what you should do about it and how to monitor and follow up," he said. "We don't just deliver a radiology report — we give you a kind of translation of what you should do about it."
The patient also has the option to do a video call with one of Ezra's on-staff doctors to discuss the results.
NEW AI 'CANCER CHATBOT' PROVIDES PATIENTS AND FAMILIES WITH 24/7 SUPPORT: 'EMPATHETIC APPROACH'
With the new Ezra Flash that has just been cleared by the FDA, the shorter 30-minute scan includes a third level of AI that enables radiologists to complete scans much faster. The AI then enhances the quality of the images so radiologists can more easily read them.
"The quality of an MRI is determined by the level of 'noise,'" explained Gal. "And so in technical terms, our AI is able to remove the noise that results from a much faster scan."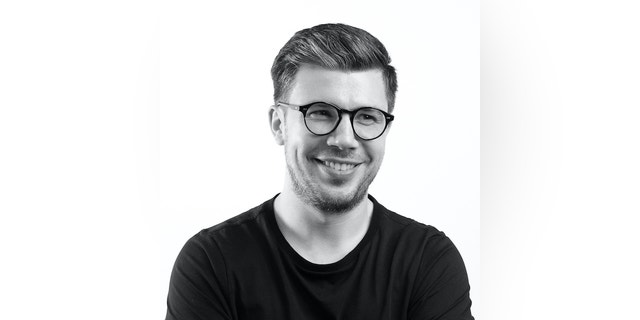 The company's ultimate goal is for Ezra to offer a 15-minute, full-body MRI scan for $500; it aims to achieve this over the next two to three years.
"Ultimately, we think Ezra should be the end-to-end cancer screening platform," Gal said. "We want to make booking your screening as easy as booking an Uber."
"Our ability to scan more people in the future will come from seamless, easy, convenient access to any kind of screening."
A life-saving scan
One 36-year-old man, who asked that his name be withheld for privacy reasons, decided to schedule a preventative full-body cancer screening with Ezra last year.
Within the span of a year, two of his close friends, both in their early 30s, had been diagnosed with cancer — and both were told their tumors had likely been developing for over a decade.
"I was struck by the fact that despite all the advances of modern medicine, you still have no idea what is happening inside your body," he told Fox News Digital. "In a majority of cases, the onus is on the patient to realize something is wrong, at which point it is often too late for effective treatment."
"It would not be an exaggeration to say my scan saved my life."
After a short intake questionnaire, the patient was scheduled for an MRI at a nearby imaging center. The process took just over an hour.
"I had no reason for concern, it was just a screening — so I was very surprised to find that my scan turned up an alarmingly large brain tumor," he said.
Early detection of the brain tumor allowed for intervention before it had progressed to an advanced stage, which would have required more aggressive treatment, such as chemotherapy and radiation. 
AI SHOWN TO PREDICT RISK OF PANCREATIC CANCER WELL BEFORE SYMPTOMS APPEAR
"According to my medical team, it would likely have been another five to 10 years before symptoms — most likely a seizure — would have indicated the presence of the tumor," he said. 
"Had that been the case, I would have undergone emergency surgery."
Instead, the patient had time to research top neurosurgery centers across the country and consult with multiple surgeons before scheduling his surgery.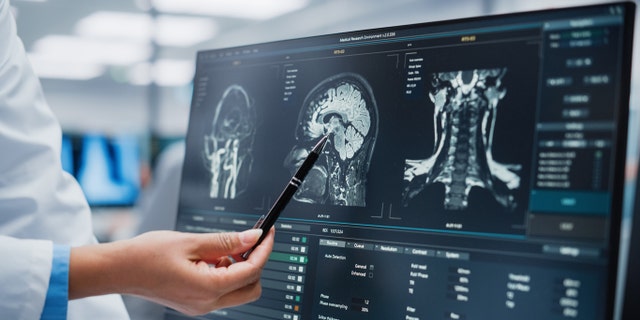 He was also able to enroll in a clinical trial for a medication that has since proven successful — something he might have missed out on if he'd gotten the diagnosis later.
"Everyone should have the right to know what is going on in their body," the patient said. "It would not be an exaggeration to say my scan saved my life."
Potential concern
Unlike X-rays that use ionizing radiation, Ezra's MRI technology uses magnetic resonance, Gal explained.
"You can do a scan every day for the rest of your life and you'll be fine," he said.
The one potential concern, however, is the risk of incidental findings. 
If a scan picks up a red flag that is investigated and turns out to be nothing, it could result in an unnecessary biopsy.
"We've developed an entire framework to handle incidental findings," Gal said. "Part of why we use AI to generate these reports is so that we can clearly explain to people what every single finding means and what should be done about it."
CLICK HERE TO SIGN UP FOR OUR HEALTH NEWSLETTER
Ezra uses a scoring system that ranks every finding from 1 to 5, 1 being just informative and 5 being "emergent and urgent." 
Based on that rank, they determine whether someone should follow up on a finding.
Even for existing routine screenings, like mammograms, there is always the risk of false positives, Gal pointed out.
"From the data we have so far, we have a really, really low false positive rate — around 1%, which is probably even better than a mammogram or a lung scan," he said.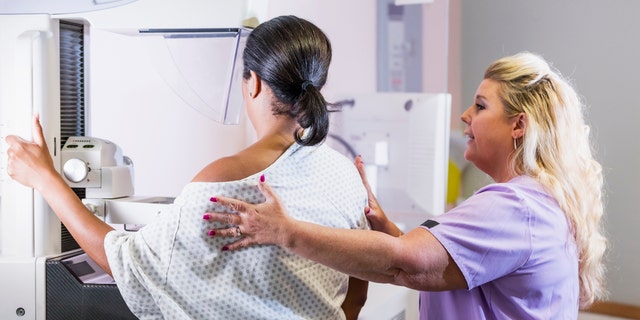 The patient who discovered his brain tumor through an Ezra scan also flagged incidental findings as the sole risk.
"Full-body scans inevitably produce incidental findings, which may lead to additional testing," he said. "These additional tests come with their own risks, stress and costs."
"These additional tests come with their own risks, stress and costs."
"As these screenings become more widespread and incidental findings more frequent, clinicians will need to become better at differentiating which findings require follow-up and which do not," he added. 
"The responsibility of the health care provider is to clarify and provide context for the information, explain their recommendations and then empower patients to make informed decisions about their own health."
Creating a 'virtuous cycle'
Until now, medical imaging has been primarily used to diagnose diseases after symptoms have already emerged — but Ezra aims to detect cancer well before that point, said Dr. Sodickson, chief of innovation in radiology at NYU Grossman School of Medicine, who is also Ezra's advisor and chief scientist.
"Such a shift requires that MRI be made more accessible — first financially and then technologically," he said. "The FDA approval of Ezra Flash, which leverages AI to clear up rapid scans, is an important first step, since time is money in medical imaging."
CLICK HERE TO GET THE FOX NEWS APP
Meanwhile, as Ezra completes more scans over time, the system will "learn" to detect subtle changes earlier, preventing the false positive results that can plague one-shot screening studies, the doctor noted. 
He added, "The goal is to initiate a virtuous cycle: Make imaging accessible in order to scan you more frequently, and scan more frequently in order to provide accurate monitoring of your health over time."


POST AUTHOR: Melissa Rudy

Source link