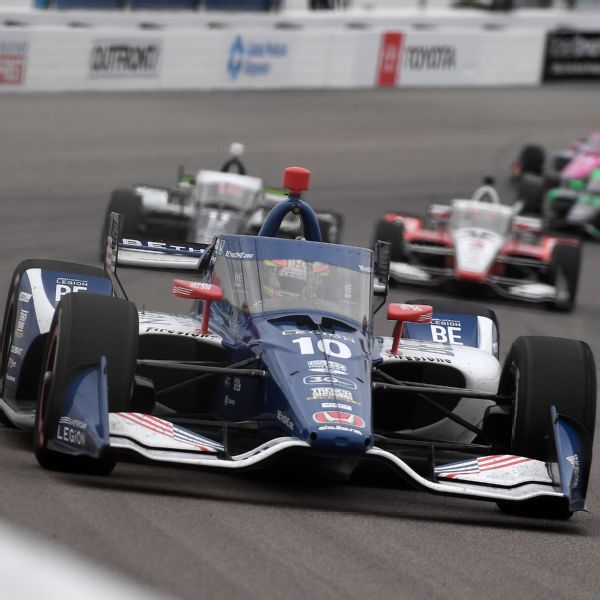 PORTLAND, Ore. — Alex Palou is a two-time IndyCar champion with Chip Ganassi Racing following a dominant run Sunday at Portland International Raceway.
Palou earned his fifth win of the season to lock up the title with one weekend remaining in the 17-race schedule. It is the first time in IndyCar the championship has been settled before the finale since the late Dan Wheldon won in 2005.
"I never thought I'd be an IndyCar champion and to be a two-time IndyCar champion just feels amazing, like a dream," Palou said. "It was an amazing weekend. We just raced how we've been doing all season."
Palou this year led IndyCar in nearly every measurable statistic: wins, poles, podiums, top-five finishes, top-10 finishes, races led and laps completed. In fact, Palou finished all but two laps all season and could have had a sixth victory but was spun on pit road during the Indianapolis 500 and had to drive his way back to a fourth-place finish in a race he seemed poised to win.
Palou started the race with a comfortable points lead over Ganassi teammate Scott Dixon, the only driver mathematically eligible to challenge the Spaniard for the title. But it didn't matter what Dixon did in the race because if Palou podiumed, the championship would be over.
He did far more than podium at Portland.
Palou led 69 of the 110 laps to score a decisive victory over runner-up Felix Rosenqvist, who finished 5.4353 seconds back. Dixon, the six-time IndyCar champion, finished third for the third consecutive time at Portland.
"I don't know if we had enough speed for Alex, he was definitely fast," Dixon said in lauding his teammate. "He kind of does everything right. He's a hell of a competitor, a huge talent."
It is the second title in three seasons for Palou, who won both titles driving for Ganassi, and the 15th IndyCar title for the team owner. Of Ganassi's many title winners, Palou joins Dixon (six), Dario Franchitti (two) and Alex Zanardi (two) as drivers with multiple championships.
"He's certainly special," Ganassi said. "He's part of our team and we couldn't be more happy about that. He likes to win, he told me that. He told me before the race, I said 'Let's go wrap this up today,' he looked at me and said 'I'm going to wrap it up with a win.' I said 'OK, great.' He called his shot today."
Ganassi then assured that "Alex Palou is going to be in our car, I can tell you that, for sure."
Palou was supposed to leave Ganassi at the end of the season for a move to Arrow McLaren Racing, where he was also McLaren's test and reserve Formula One driver.
But Palou informed McLaren last month he's not moving to the team, and McLaren has filed suit in the United Kingdom seeking at least $20 million in damages and to recoup money already advanced to Palou.


POST AUTHOR:

Source link