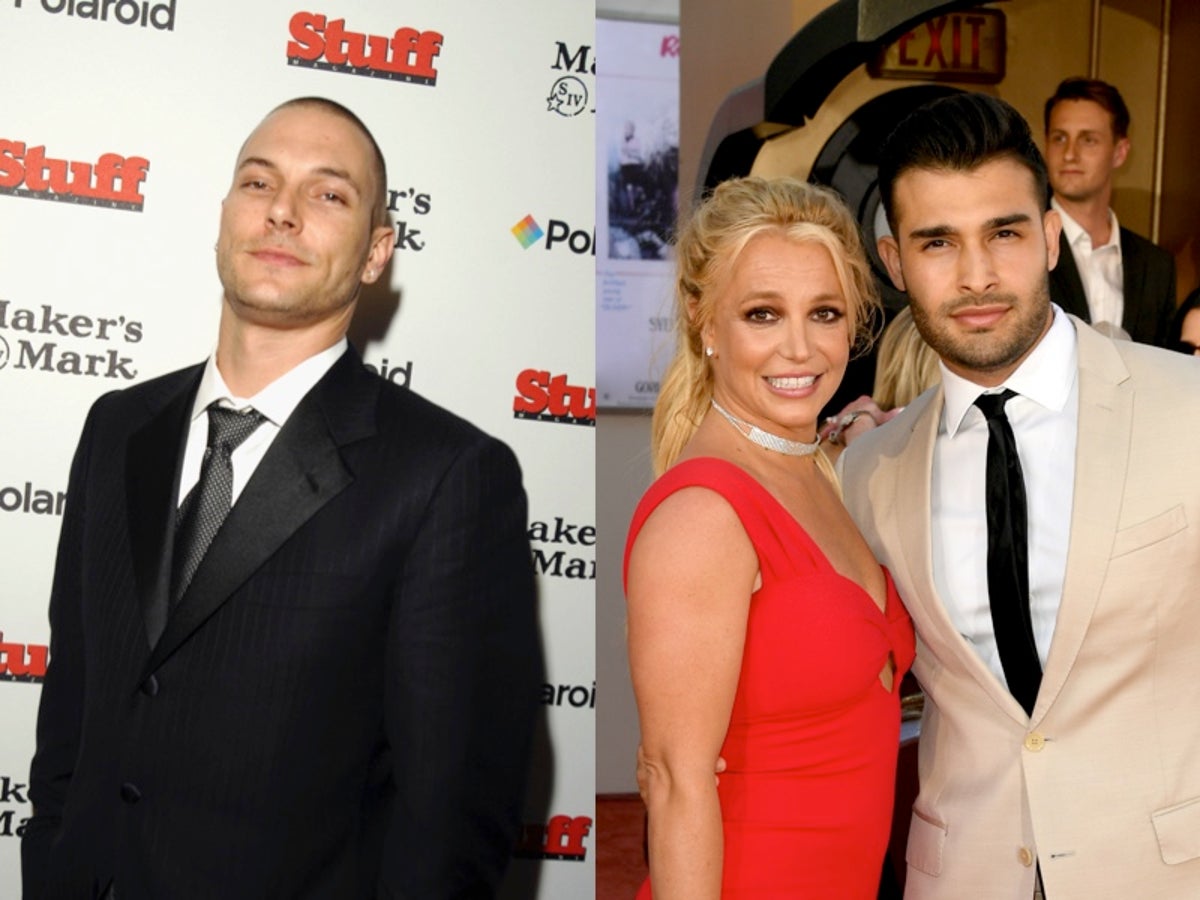 Kevin Federline has weighed in on Britney Spears' divorce from Sam Asghari.
Following reports that the "Toxic" singer and the fitness instructor were divorcing after 14 months of marriage, Federline's attorney – Mark Vincent Kaplan – shared where the 45-year-old currently stands with his ex-wife.
"From Kevin's standpoint, he just hopes that they work it out," Kaplan told NewsNation on 16 August. "And he just hopes that everything works out for the best, whether that's being together or not being together. He just hopes that they make good decisions and work out, either go their separate ways or get back together."
Federline – who shares sons Sean, 17, and Jayden, 16, with Spears – added that he hopes the couple can decide "whatever is best for them" and he simply wishes the pop star "the best".
Prior to her relationship with Asghari, the "Gimme More" singer met Federline in 2004 when he worked as a backup dancer for Justin Timberlake. After just three months of dating, the two tied the knot in September 2004 during a surprise wedding ceremony in Studio City, California. Federline was 26 years old at the time, while Spears was 22.
Just eight weeks after the birth of their second child, Spears filed for divorce from Federline in November 2006, citing "irreconcilable differences". In the couple's initial divorce settlement, which was finalised in July 2007, they were granted joint legal and physical custody over their two children.
However, the two have been embroiled in a custody battle over the years, largely due in part to the singer's mental health issues and her 13-year long conservatorship – which was terminated in November 2021.
In 2018, things took a turn when Federline requested an increase of $20,000 a month more child support payments from Spears. A settlement was finally reached between the two parties, with Spears increasing her child support payments to Federline from $20,000 to $35,000 a month. Most recently, the former X Factor judge "consented" to Federline relocate their two sons to Hawaii. "It's an opportunity for Kevin and his wife and the boys are ready to get away from the LA microscope," Kaplan told People back in May.
Meanwhile, Asghari filed for divorce from Spears on Wednesday, according to multiple outlets. The model, 29, listed the date of separation as 28 July and cited "irreconcilable differences" as the reason for the split.
A TMZ report claimed that Asghari recently confronted Spears, 41, about rumours she cheated on him. The outlet noted that it was unable to confirm if the rumour "has any basis in fact," but that the allegations allegedly sparked a "huge fight" between the couple. However, a source close to Spears maintained that the "Womanizer" singer was faithful to Asghari throughout their relationship.
"Britney and Sam have split. She's adamant she didn't cheat. The two haven't got along for a while and it finally came to an end after a major blowup," they told Entertainment Tonight. Meanwhile, TMZ reported that the couple has been experiencing "deep trouble" for months, and that Asghari has not been staying at their home amid frequent "blowout fights".
Rumours have also circulated that Asghari allegedly wants Spears to "pay him more than what their prenup provides" in return for keeping her secrets following their split, Page Six reported on Wednesday.
Spears has since hired high-powered divorce attorney, Laura Wasser, and will continue to work with former federal prosecutor Mathew Rosengart, who helped free her from her conservatorship and crafted the terms of her iron-clad prenuptial agreement with Asghari.
Neither Britney Spears nor Sam Asghari have commented publicly on the split. The Independent has contacted their representatives for comment.


POST AUTHOR: Meredith Clark

Source link