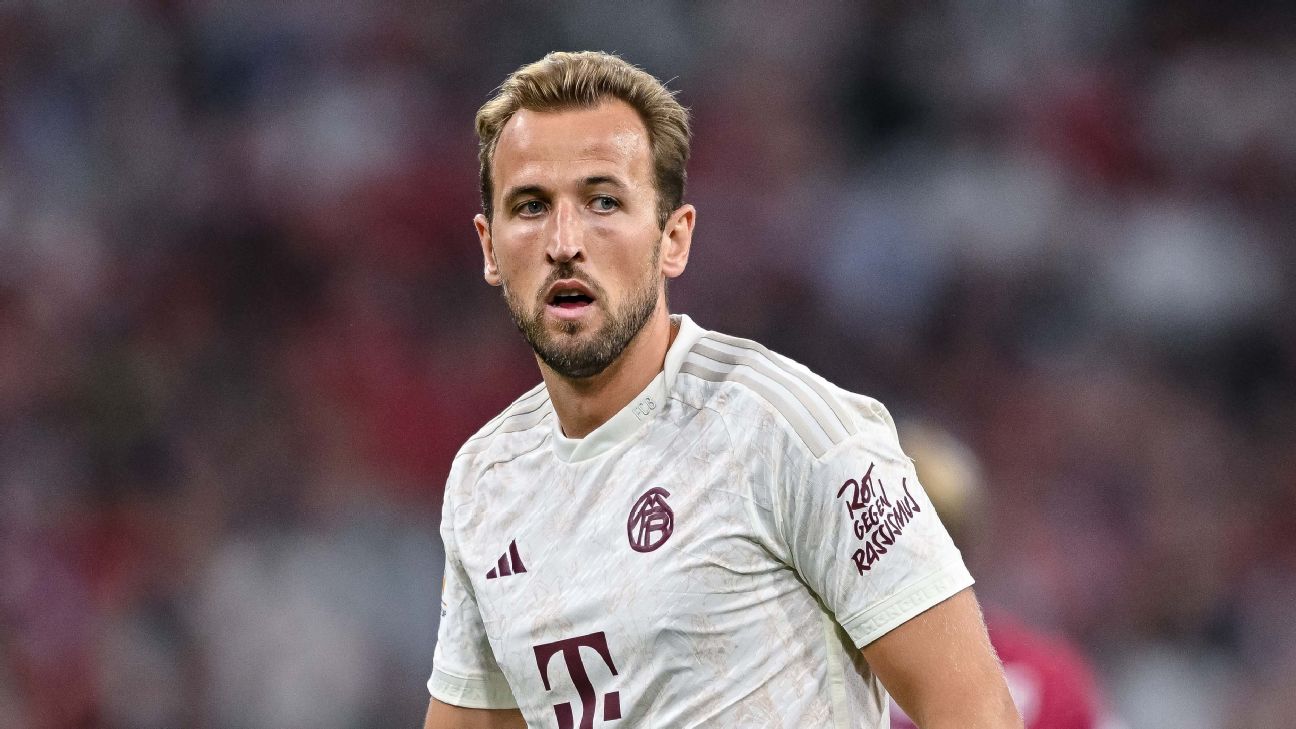 Harry Kane has said the German language barrier won't matter to Bayern Munich fans if he becomes the prolific goalscorer they crave.
The 30-year-old left Tottenham last week in a deal worth up to €120 million ($130m) and is expected to make his Bundesliga debut on Friday when Bayern travel to Werder Bremen.
– Stream on ESPN+: LaLiga, Bundesliga, more (U.S.)
– Olley: How Kane finally left Spurs for Bayern Munich
Kane was shown on camera during last weekend's German Super Cup defeat to Red Bull Leipzig unable to join in as his teammates remonstrated with the officials and in an interview with ESPN, the striker said: "I'll try as much as I can to learn but it's an extremely difficult language for sure.
"A lot of people talk English here, which will help me anyway, but I'll try and fit in culturally as much as I can. I'll try and learn the language, I'll try and get to know the fans as much as possible.
"But I think in all this, ultimately the bottom line is people want me to play well, the Bayern Munich fans want me to perform on the pitch. So if I'm not talking German but I'm still scoring goals, I'm sure they won't be too disappointed. But like I said, I'm open to trying to experience as much as I can."
Kane left Spurs after a 19-year association with the club and became the first active England captain to leave the Premier League since David Beckham joined Real Madrid from Manchester United in 2003.
Although Kane was on course to surpass Alan Shearer's all-time Premier League goalscoring record — he stands at 213 compared with Shearer's 261 — the forward has no silverware to show for his time at Spurs despite establishing himself as one of the world's top strikers.
Explaining his decision to join Bayern, Kane continued: "People talk a lot about trophies and there's a lot about on social media and about trophy trophies but for me it's to always improve.
"Of course I want to win. I want to win every year. When I was at Tottenham, I've never gone into a season not trying to win the trophies. So of course we know it hasn't quite happened for me yet, but I've got plenty of years to try and achieve that.
"It's not just the trophies, it's to push myself to be at a club like Munich, the pressure is a lot higher and you have to make sure you are winning titles. You have to make sure you are getting far in the Champions League, otherwise you've failed. And that's an experience I want it to feel. That's a pressure I want it to feel and that's ultimately why I've come."


POST AUTHOR: James Olley

Source link