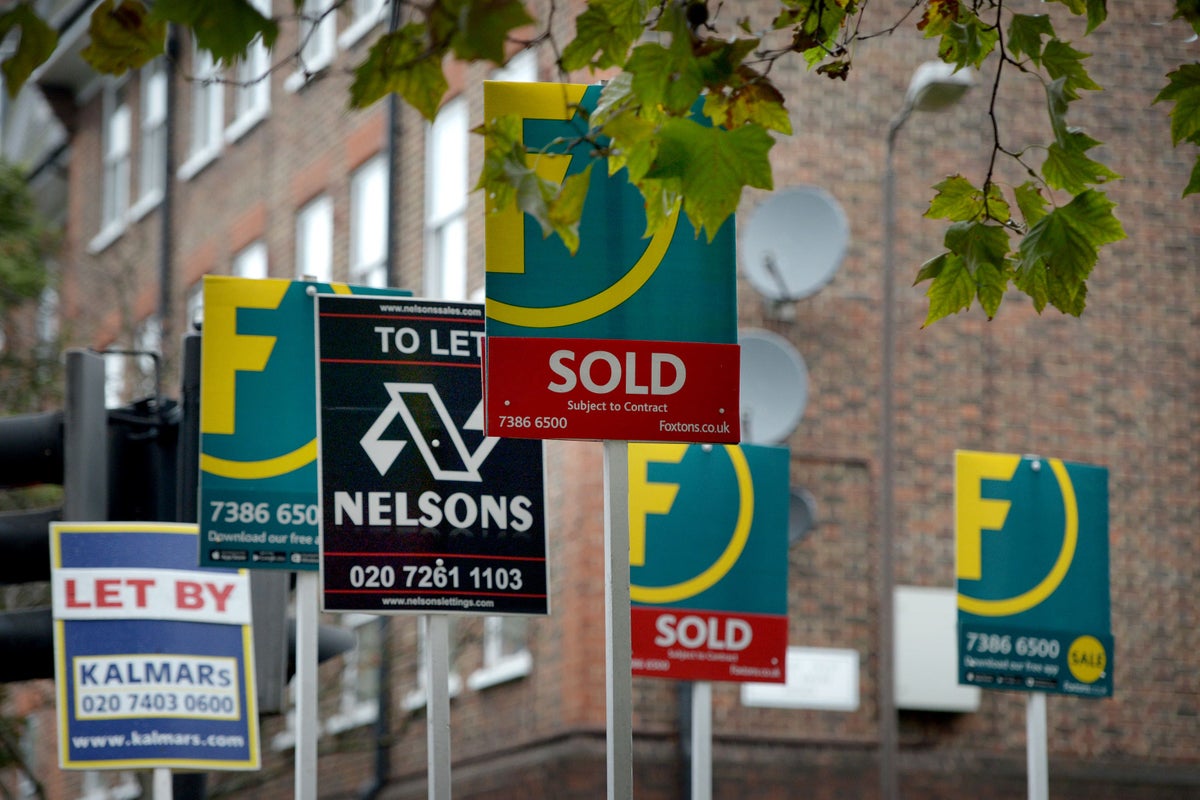 The number of home sales taking place in July was 16% lower than in the same month a year earlier, according to HM Revenue and Customs (HMRC) figures.
Across the UK, 86,510 residential property sales were recorded, edging up slightly by 1% compared with June.
HMRC's report said that July was the second month in a row where there had been a small increase in transactions, despite sales numbers being down compared with a year ago.
It said the figures did not necessarily reflect the current strength of the housing market, because they represented sales completions, which were on average two to four months after an initial offer was made on a property.
Mortgage rates have jumped in recent months amid a string of Bank of England base rate rises as it moves to quell inflation, although there have been some signs of fixed rates settling down in recent weeks.
In a sign of what is on the horizon, figures released by the Bank of England on Wednesday showed that the number of mortgage approvals made to home buyers fell by nearly 10% between June and July.
Some 49,444 approvals were recorded in July, down from 54,605 in June, according to the Bank's Money and Credit report.
James Bull of Huddersfield-based mortgage broker JB Mortgages, said: "Throughout the year, the purchase market has really slowed as the impact of higher mortgage rates has kicked in.
"Clearly, there are regional variations but the one constant is that only realistically priced properties will sell."
Nigel Bishop, from buying agency Recoco Property Search, said: "The current market is particularly driven by cash buyers who are not faced by higher interest rates but we have seen some house hunters adjusting their budget or search criteria in order to find a suitable property."
Nicky Stevenson, managing director at estate agent group Fine & Country, said: "Property transactions were stable in July, rising slightly compared to June on a seasonally adjusted basis.
"Affordability pressures caused by successive base rate rises are squeezing demand compared to last year, but the housing market is proving resilient.
"Buyers have become used to the higher-rate lending environment, and many sellers are pricing their properties accordingly. Sensibly priced properties continue to attract a lot of interest, while smaller homes in affordable locations are proving the most popular …
"Hopefully we are soon reaching the point where the Bank of England can take a step back from interest rate hikes and let the economy recover of its own accord without needing to pull another lever."
Gareth Lewis, managing director of property lender MT Finance, said: "There is some hesitancy as to whether now is a good time to buy while there is uncertainty as to where interest rates will peak and what will happen with property values."
Alex Lyle, director of London-based estate agency Antony Roberts, said: "A combination of the summer holiday season and buyers being more cautious has resulted in fewer viewings.
"Having said that, the recent volume of agreed sales has been reassuring and those properties that have come to market or are getting ready to launch in September appear to be committed vendors with an understanding of current market conditions.
"Prime addresses and in particular family houses continue to attract significant interest and are achieving strong prices. Properties that maybe compromised in terms of location or lease, or layout, are taking longer to sell and it is these properties that need to be competitively priced."
Justin Moy, founder of Chelmsford-based mortgage broker EHF Mortgages, said: "Overall, property transactions have been much lower than usual, which is unsurprising given rising interest rates, high inflation and broader economic uncertainty.
"As house prices fall, one positive is that we have seen a good level of interest from first-time buyers who are fed up with paying high rents and see now as a good time to buy."


POST AUTHOR: Vicky Shaw

Source link