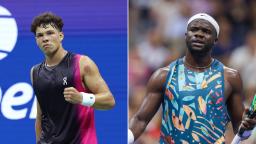 CNN
 — 

Ben Shelton pulled off an upset against fellow American and world No. 10 Frances Tiafoe in four sets in the US Open quarterfinals early Wednesday.
In the first-ever US Open quarterfinal match between two Black American men, the 20-year-old Shelton defeated last year's runner-up 6-2 3-6 7-6(7) 6-2 in New York.
Shelton – the youngest American male to reach a US Open semifinal since a 20-year-old Michael Chang made it in 1992 – will next play 23-time grand slam winner Novak Djokovic on Friday.
"I feel like I left it all out here tonight. Emotional battle," Shelton said after the match. "Thanks to all you guys for staying so late. Hell of an atmosphere, and thanks for pushing me over the line."
"Sometimes you got to shut off the brain, close your eyes and just swing," Shelton said on the third-set tiebreaker. "Maybe there was a little bit of that, down a set point, but it ended up working out."
With the victory, the 2022 NCAA singles champion Shelton will move from No. 47 and into the top 20 in the men's world singles ranking.
Shelton was asked if he knew who he would face next.
"Yeah, he's won 23 of these or something like that," Shelton said about Djokovic. "It doesn't get much better than that. It's been tough the last two matches. I've been playing Americans, but hopefully you guys bring it for me two nights from now."


POST AUTHOR:

Source link