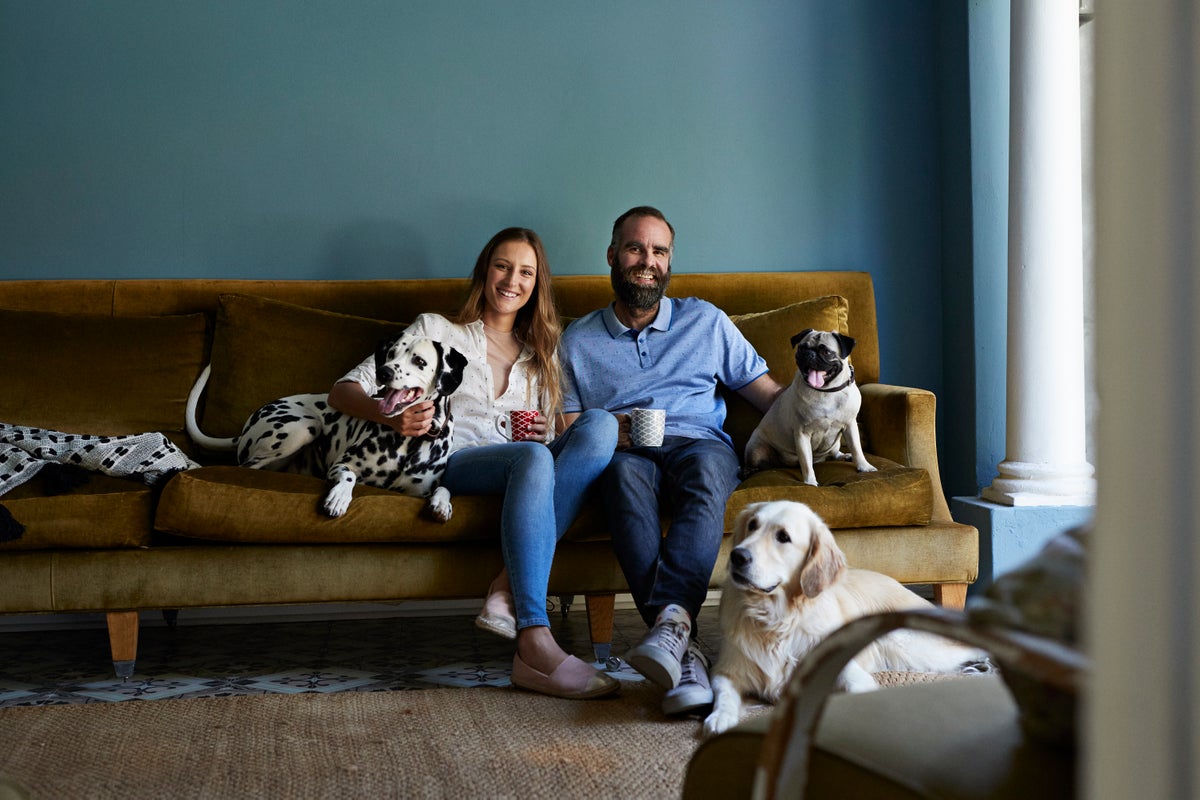 Satiate their appetites with a tailored meal plan, nurture their fur with a pet shampoo and protect their joints with some natural supplements.
Keep your furry friend feeling fresh
As a pet owner, there's no better feeling than seeing your four-legged friend with healthy, shiny and clean fur, and the team at Watermans have created a recipe that does just that. Thanks to the formula containing black seed oil and sea buckthorn, Watermans Pet Wash has been made to sooth and enhance the appearance of fur, while its concentration of neem seed oil helps to repel fleas and ticks. What's more, the shampoo boasts a bubble-gum fragrance, so your pet will be left smelling as sweet as sugar.
Find out more at watermanshair.com/products/luxury-pet-shampoo
Keep an eye on your pet with an intuitive tracker
Whether your dog roams a little too far while out and about, or your cat wanders off at its leisure, it's a good idea to stay clued in on their whereabouts. The new Pawfit 3 tracker has been designed to put your mind at ease. The waterproof GPS pet location and activity tracker offers live location updates every five seconds, so you can quickly find your pet when they've meandered out of sight. You can also set personalised fitness goals and monitor their activity in the Pawfit app, to help keep them fit and healthy. The tracker features a six-day battery life and a remote voice recall allowing you to record your recall command and play it to your pet via the speaker. Above all, the best feature has to be the safety zones, which allows you to set up to 10 virtual fences around your home or any location of your choice and be notified every time your pet crosses a fence line.
Visit pawfit.com to keep all your pets safe
Protect your pet against the elements
If you live in the UK, you're bound to have had to walk your dog in the rain at some point. Fear not — Non-stop dogwear have got you (and your canine) covered. Its water and windproof raincoat is made from lightweight and breathable material, ensuring ventilation and comfort. Thanks to its tailored fit and adjustable buckles, your dog will be free to walk, run and jump without restriction, while also protecting your pet against all weather conditions. The coat comes in a variety of colours and sizes, complete with reflective detailing for visibility and a leash opening, ensuring you can keep your pooch safe as well as stylish.
Head to nonstopdogwear.com to take the quiz and see if the Fjord raincoat is the right jacket for your four-legged friend
Cater to your picky pet
Is your furry feline a fussy eater? Burns Original Cat Food range has been developed to sate the tastebuds of even the pickiest of pets. Containing a combination of protein and minerals to help maintain healthy kidneys and urinary tract levels, every bite is highly digestible and suitable for sensitive tummies. Each pack contains taurine, which is beneficial for the eyes and heart. There are also four flavours to choose from, from chicken and brown rice to duck and potato, so your lucky feline will be spoilt for choice.
Get your cat meowing for more and head to burnspet.co.uk
Nourish your canine with an eco-friendly supplement
If you're looking to provide your pooch with some extra support, check out the transformative benefits of Blue Pet Co supplements. Powered by organic seaweed complexes (PhytoDent) and a combination of essential micronutrients, the supplements have been designed to promote your dog's oral health, as well as address joint issues. In addition to keeping your pet healthy and happy, the brand's commitment to zero-waste technologies guarantees a guilt-free purchase, as all seaweed and algae used has been responsibly hand-harvested from the shallows of Ireland's Atlantic coastline.
Discover the ultimate pet nutritional experience with GoFetch and treat yourself to 20% off a trial box using code FETCH20 at bluepetco.com. Offer valid until 30 October 2023
Feed your dog a holistic meal
If you're looking for a nourishing and holistic meal for your dog that's grain and beef-free, then look no further than Celtic Connection. Suitable for all life stages (from puppy to senior), the entire range of recipes consist of human-grade-quality meat, functional herbs, fruits and vegetables to create an easily digestible and delicious meal. What's more, each meal includes glucosamine, chondroitin and MSM, which are useful in joint support – so you'll be satisfying their appetite while caring for their joints. There's even chicken- and fish-free options, making Celtic Connection a great choice for pets with food sensitivities.
Discover the range at celticconnectionpetfood.co.uk
Care for your cat with a subscription service
Calling all cat people — we've got the subscription service for you. As felines can sometimes be difficult to please, the nutrition experts at Republic of Cats have created a simple and bespoke solution. The all-in-one cat food service offers pet owners personalised feeding plans of both wet and dry food, with a variation of recipes to choose from. In addition to the monthly delivery of food, you can also add charcuterie treats, litter and a flea & wormer treatment to your recyclable box, providing you with everything you need to care for your cat. Once subscribed, feel free to join its exclusive cat community, where you can refer your friends and receive exclusive deals.
Head to republicofcats.com and receive a £5 taster box with code OFFER5TASTERBOX (offer ends 20 December 2023)
Maintain your pet's active lifestyle
There's no bond like the one between you and your pet, and when it comes to their joints, only the best supplements will do. YuMOVE is dedicated to ensuring that your dog or cat lives an active life for as long as possible, and its joint supplements work to do just that. In a study conducted by the Royal Veterinary College, YuMOVE's joint care range supplements were clinically proven to take effect in just six weeks – helping to support joint health. Its combination of green-lipped mussel and fish oil provides a potent blend of Omega-3, helping to soothe and support your pet's stiff joints.
Visit yumove.co.uk to claim 30% off any single purchase from the website using code PETGUIDE30 (offer ends 30 September 2023)
Treat your dog to tailor-made meals
A balanced diet is key when it comes to keeping your pooch happy. tails.com creates tailor-made kibble blends based on your dog's breed, age, lifestyle and personal taste. These flavourful meals contain high-quality, vet-approved ingredients, hand-picked to support your dog's individual wellbeing. All you need to do is fill in their details and you'll receive the exact amount of food needed (to ensure your dog maintains a healthy weight) delivered monthly to your door. You may also add extras to your box, such as wet food, treats, toys and poo bags. You can also pause or cancel the subscription anytime.
Discover the benefits for yourself at tails.com and receive 50% off your first box
Spend a day supporting cat charities and rescue centres
Loving Cats Worldwide is on a mission to increase awareness of the overwhelming need to rescue and rehome cats. To do this, LCWW is bringing its International Cat Extravaganza and Rescue Awareness Event to some of the UK's most iconic venues. From London's Olympia to Birmingham's NEC, pick your favourite city and unite with cat lovers from across the country. Whether you're looking to learn more about rescue needs, witness an international cat competition or browse through the hundreds of cat accessories available in the shopping village, there will be plenty of things to learn, activities to do and kittens to see. What's more, a portion of all ticket proceeds will be donated to The Meserve Foundation, working to help cats everywhere.
Secure your ticket today and head to lovingcatsworldwide.com
Keep your pet fit and healthy with salmon oil
Looking for ways to improve the overall health of your pet? Salmon oil for dogs and cats can do just that. Containing all 21 omegas and fatty acids, Brilliant Petcare's salmon oil is a nutritional topper that contains no added ingredients or preservatives. Add a few pumps of the oil to your pet's meal to help their coat become shinier and improve their appetite. As Brilliant Petcare only harvests the offcuts of fresh salmon from Western Norway (that would otherwise be thrown away) – you'll be helping to reduce waste with every purchase. The best part? Unlike other salmon oils, which often aren't made with fresh salmon, it won't leave a strong lingering smell around the house.
Visit brilliantpetcare.com and receive 15% off your salmon oil using code PETS15 (offer ends 31 December 2030)
This content is brought to you by Living360, a digital lifestyle destination keeping you up to date with the latest trends surrounding health and fitness, food and drink, homes and gardens, beauty, travel, finance trends and more.


POST AUTHOR:

Source link