The Kremlin on Friday denied it had anything to do with the plane crash believed to have killed Wagner Group leader Yevgeny Prigozhin, viewed by many as a revenge assassination for the mercenary chief's aborted mutiny two months earlier.
Speculation that Russian President Vladimir Putin ordered a hit on Prigozhin is "an absolute lie," spokesman Dmitry Peskov said early Friday, Russian state media reported.
Few facts have so far been established and forensic tests are still needed to confirm Prigozhin's death, Peskov told reporters in a regular briefing call, according to state news agency Tass. The official results of the investigation will be published, he added, according to the RIA news agency.
Prigozhin was listed among 10 people on board an executive jet that crashed Wednesday in the Tver region, leaving no survivors, according to Russian authorities.
There has been no official confirmation that Prigozhin's body was found or identified, and it remains unknown what brought the plane down.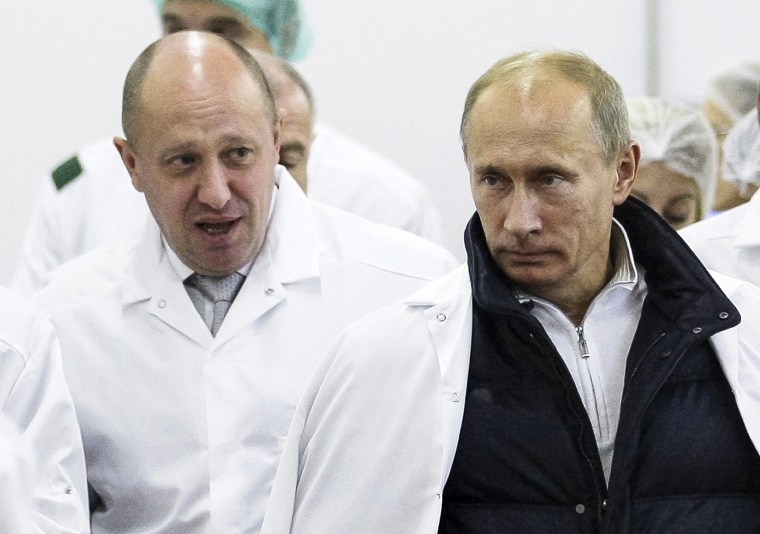 Putin broke his silence about the crash late Thursday, calling Progozhin "a man with a complicated fate, who has made many serious mistakes in his life."
Brig. Gen. Pat Ryder, the Pentagon's press secretary, said at a briefing Thursday that the Defense Department's initial assessment is that Prigozhin was likely killed. He added that there is no information to indicate a surface-to-air missile hit the aircraft, pushing back at reports suggesting it as the cause of crash.
Two U.S. officials told NBC News intelligence gathered so far points to sabotage. One of the officials said a leading theory is that the aircraft was downed by an explosive on board, but they do not have enough information to say that with certainty.
Prigozhin led a short-lived mutiny against the country's military leadership in June, but stood down in a deal with the Kremlin that saw him exiled to neighboring Belarus. He later said he never intended to topple Putin, but went against the top military brass to preserve his mercenary force.
Peskov said it's unclear yet if Putin will attend Prigozhin's funeral, if he in fact perished in the crash, because the president has "a busy schedule."


POST AUTHOR: Yuliya Talmazan

Source link