In a momentous showdown, the seventh-ranked Pakistan women's cricket team delivered a stunning performance, securing an emphatic 3-0 series victory over the fifth-ranked South African team. This remarkable feat not only stands as a triumph for Pakistan but also serves as a testament to the burgeoning prowess of women's cricket on the global stage.
The Pakistan women's cricket team's triumphant series win against South Africa has not gone unnoticed, with celebrities and the nation at large celebrating this historic achievement. Social media platforms lit up with congratulatory messages for the victorious team, emphasising the significance of their accomplishment.
Prominent actor Mawra Hocane expressed her jubilation on her Instagram Story, posting, "Congratulations Sidra Amin and to our entire women's cricket team." Her words echoed the sentiments of many who were elated by the team's performance.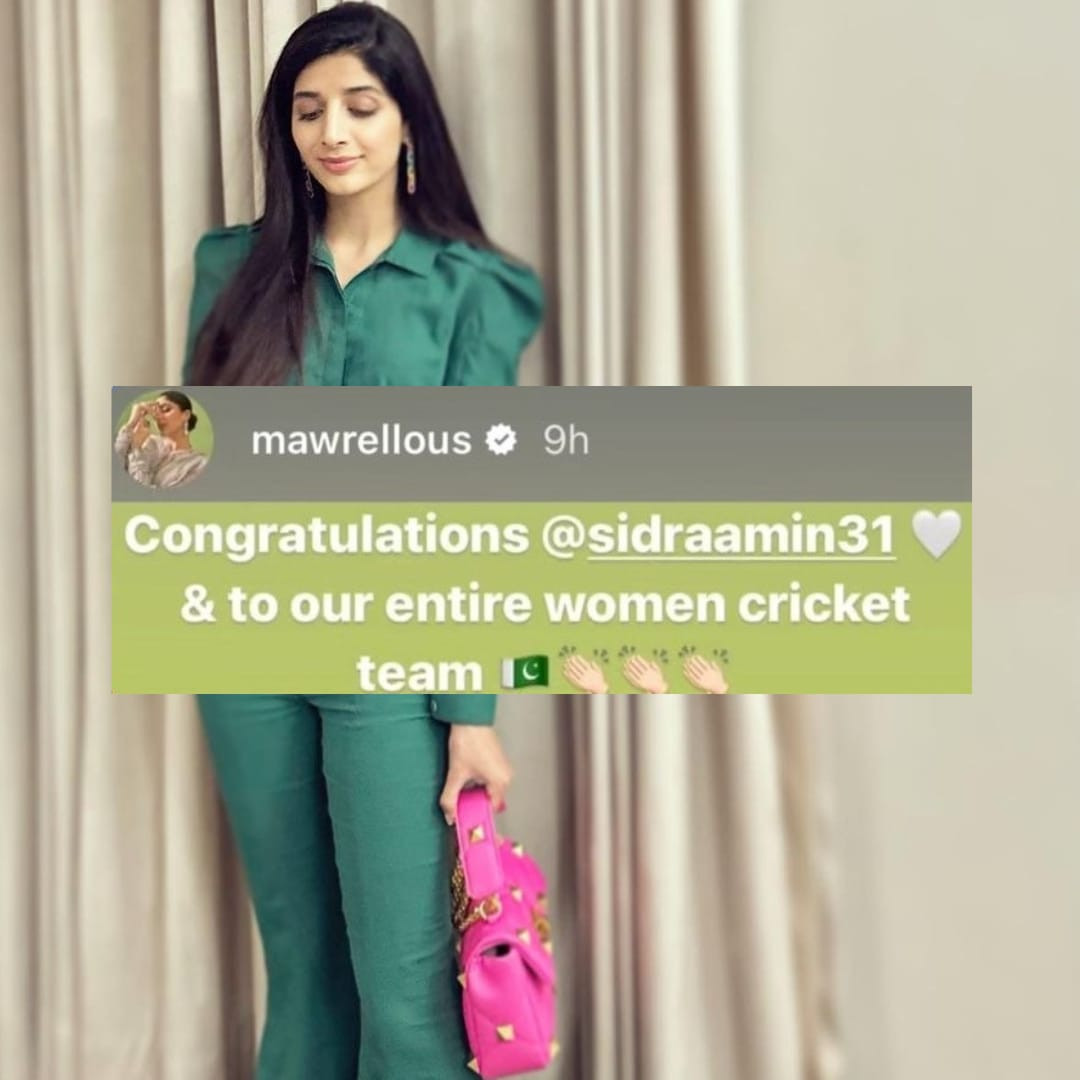 Urwa Hocane, another renowned figure, conveyed her excitement on a popular social media platform, stating, "The news made my day! The kind of win I wish to see for Pakistan every day in every field, regardless of gender. We need our full force! With all that potential, our only option is to work harder and win at everything for the world to see!" She shared the same sentiment on her Instagram Story, highlighting that this victory was a source of immense "pride" for the nation.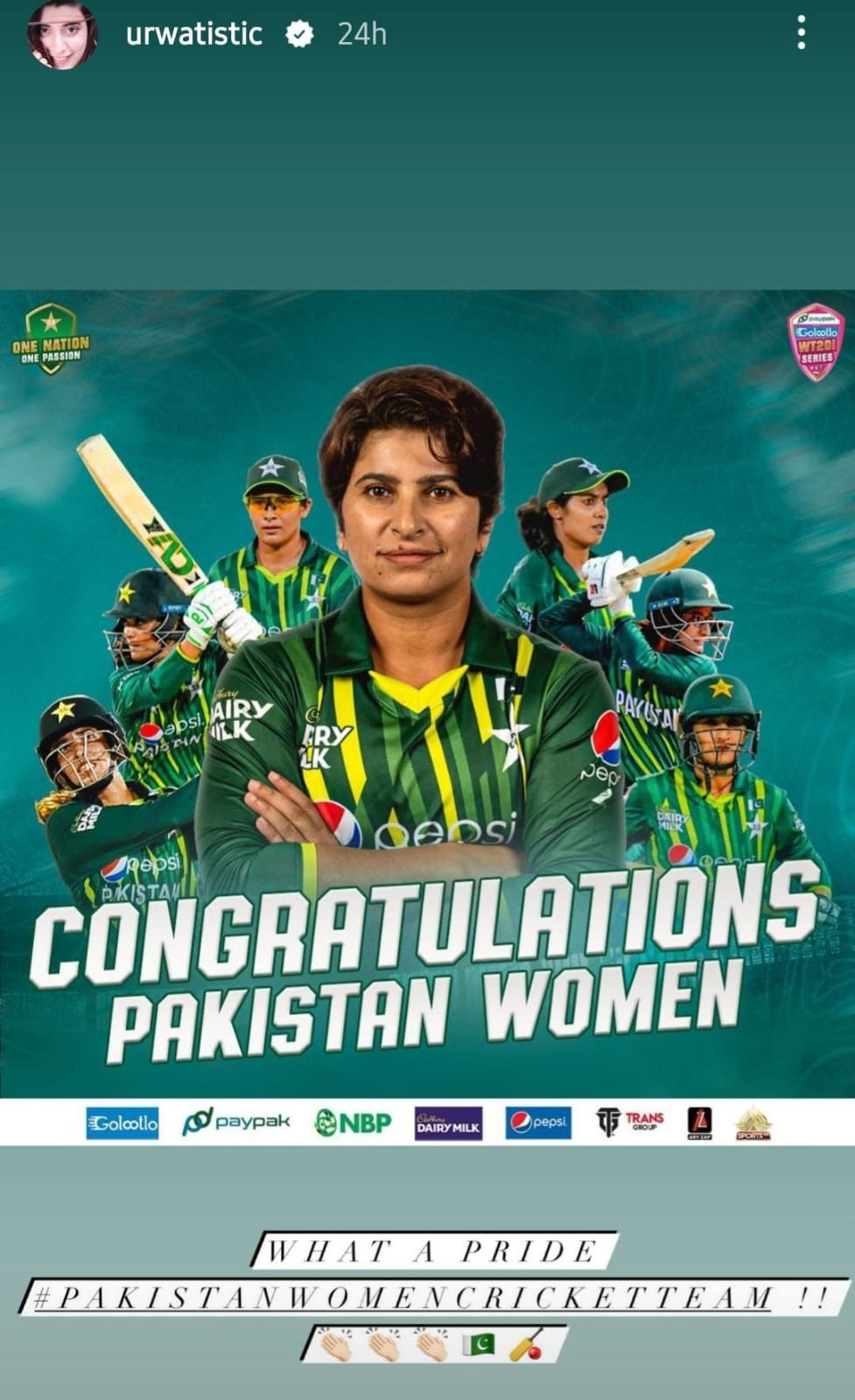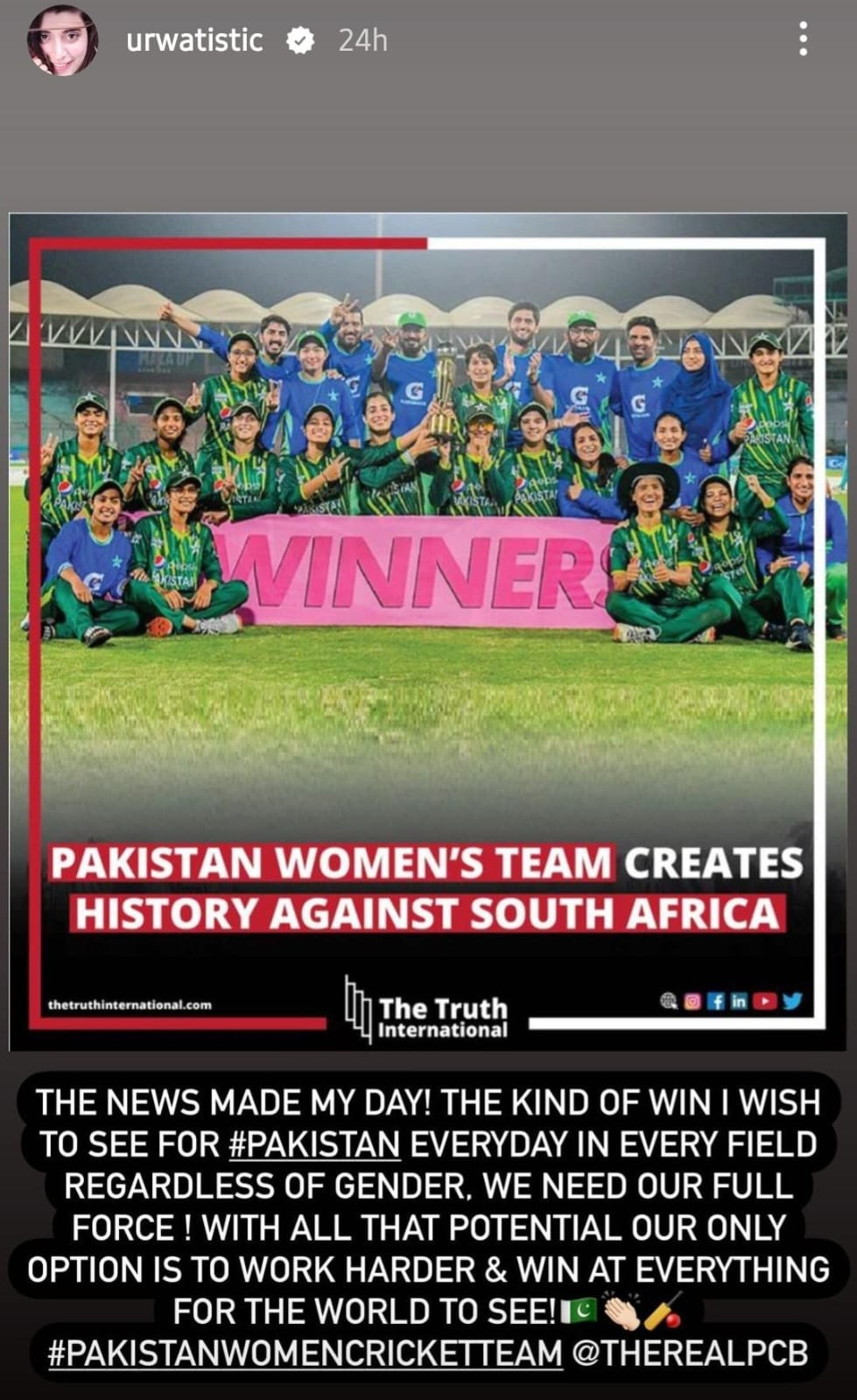 Saba Qamar, yet another prominent celebrity, took to social media to express her joy and admiration for the Pakistan Women's Cricket team. She enthusiastically declared on X (formerly Twitter), "Congratulations Pakistan Women Cricket team!"
The outstanding performance of the Pakistan women's cricket team not only underscores their dedication and talent but also serves as an inspiration for aspiring athletes across the country. This victory resonates as a significant milestone in the journey of women's cricket in Pakistan, and it is celebrated as a moment of pride for the nation as a whole.
As the celebrations continue and the team basks in the glory of their exceptional achievement, Pakistan eagerly anticipates more remarkable moments in women's cricket and looks forward to further success on the international stage. The dedication and determination exhibited by these athletes serve as a beacon of hope, heralding a bright future for women's cricket in Pakistan.




POST AUTHOR: Entertainment Desk

Source link