Former NFL player Michael Oher, a first-round draft pick and the subject of the 2009 blockbuster film "The Blind Side," filed a petition Monday to end a nearly 20-year conservatorship with Sean and Leigh Anne Tuohy, the Tennessee family that claimed to have adopted him.
Oher revealed in those filings that he was never legally adopted by the family – a revelation he claimed to have discovered in February 2023 after alleging that he was misled about the conservatorship, believing that agreeing to it would grant him some sort of familial relationship.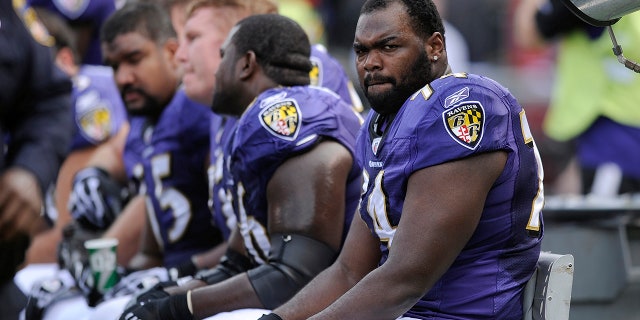 In the days that followed, more questions have been raised on both sides as the Tuohy family has denied all allegations, including that they used the conservatorship as a means to profit off Oher.
MICHAEL OHER DEMANDED $15 MILLION, THREATENED TO 'PLANT A NEGATIVE STORY,' TUOHY FAMILY ATTORNEY CLAIMS
Victoria Haneman, Frank J. Kellegher professor of trusts and estates at Creighton University School of Law and academic fellow in the American College of Trust and Estate Counsel (ACTEC), spoke to Fox News Digital about conservatorship laws as they relate to Oher's case.
"In the context of adults, a conservatorship is used to help somebody who lacks the capacity for medical or mental reasons to manage their own affairs," she said.
"In most states, there are conservatorships over one's physical person or the management of the person," Haneman continued. "And then you can also have a conservatorship over finances. In other words, the person lacks [the] capacity to enter into contracts or business arrangements on their own behalf. And so they would be unable to do so without the permission of the conservator."
Randall Fishman, one of the Tuohy family attorneys, told the media in a press conference on Wednesday that the conservatorship was enacted on Dec. 7, 2004. National Signing Day that year, the official day when college prospects can sign binding commitment agreements, was less than two months later on Feb. 2, 2005.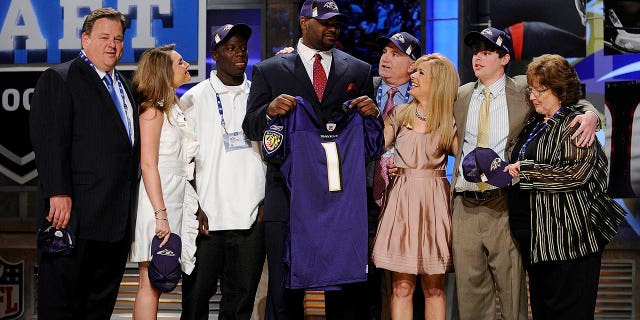 Fishman said that entering the conservatorship allowed Oher to go to Ole Miss, where the Tuohys were boosters.
"The only way, given the NCAA rules at the time back in 2005, that he could sign with Ole Miss is he became, according to the NCAA, part of the family. They sought legal counsel, and basically they wanted to give him the opportunity to choose wherever he wanted to go, including Ole Miss."
'BLIND SIDE' AUTHOR MICHAEL LEWIS BREAKS SILENCE ON MICHAEL OHER PETITION AGAINST TUOHY FAMILY
Haneman told Fox News Digital that the conservatorship could have resolved the issue that the Tuohy's and Oher were facing, but it still leaves unanswered questions about the adoption.  
"I think there's truth to the timing aspect of it. In other words, adoptions in most states will take far longer than a few months. I guess what I would ask [the Tuohys] if they were sitting across from me is: Why did you tell him you were going to adopt him? And why did you imply to the world that you had adopted him?"
She continued, "In other words, did you tell him you were going to adopt him only so that he could go to Ole Miss? Or was he led to believe that you were going to adopt him so that he could be a member of your family, just generally? Because if he was led to believe that he was going to be a member of your family, there were absolutely no obstacles for them completing that adoption. In other words, timing would have ceased to be an obstacle once he was enrolled in Ole Miss."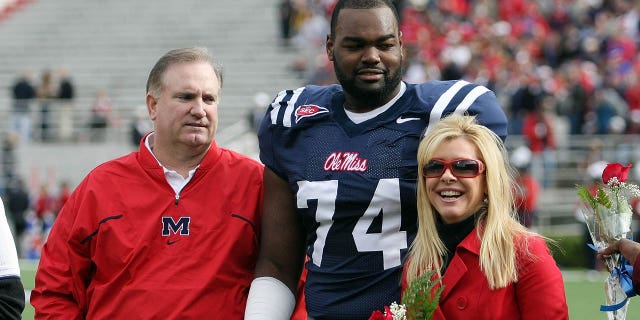 Fishman said Wednesday that the decision to attend Ole Miss, where Oher was a unanimous All-American and a two-time, first-team All-SEC selection, was Oher's alone.
"He was not told to go to Ole Miss. That was his choice."
'BLIND SIDE' INSPIRATION MICHAEL OHER WROTE ABOUT CONSERVATORSHIP IN 2011 BOOK: 'WE WERE A FAMILY'
Another major aspect of Oher's petition to end the conservatorship included his claim that while the Tuohys benefited significantly from the Oscar-nominated movie, Oher did not.
The filing alleged that the family negotiated a deal that paid them each, including the Tuohys' two birth children, a significant amount plus a percentage in royalties for the film, which grossed more than $300 million. The filing also alleges that another contract purportedly signed by Oher in 2007 signed away his rights to his story "without any payment whatsoever."
Marty Singer, a well-known California attorney, released a statement on behalf of the family on Tuesday, saying the family, including Oher, had an even share of the movie's profits. When Oher refused to cash his profit participation checks, the Tuohys deposited Oher's share into a trust account for his son.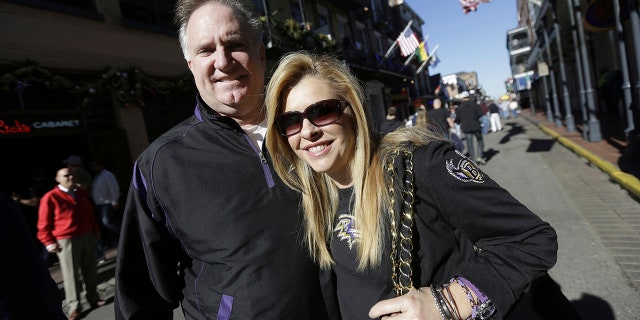 Attorney Steve Farese said Wednesday that each person, including Oher, was estimated to have made around $100,000 from the film. 
"The Blind Side" author Michael Lewis told the Washington Post that the studio paid $250,000 for the option to make the book into a movie, and he said he split the money evenly with the Tuohy family. He said the Tuohy family said they split their share. While the movie was a box office smash, Lewis said he and the Tuohy family received around $350,000 each from the movie's profits.
"I think that a lot of people who deal with Hollywood find out years or feel years after the fact that they didn't cut the deal they should have been able to cut and that they, relative to gross receipts on a project, didn't make their share that they should have made," Haneman said.
CLICK HERE FOR MORE SPORTS COVERAGE ON FOXNEWS.COM
"It is unsurprising to me that on a movie that made $300 million gross that he's looking back in hindsight and feeling, A, that he may not have cut the type of deal that he should have cut – he was 18 years old at the time, I believe; or B, that somebody was making a lot of money and it wasn't him. And he's sort of flailing around trying to figure out who it was. This is not surprising to me."
Attorneys for the family have disputed the notion that the conservatorship was used for anything else than to allow Oher to attend the college of his choice, adding that the former Baltimore Ravens offensive lineman was always in control of his financial affairs.
"The Tuohys did not control any of Mr. Oher's finances. Mr. Oher picked his own agent when he signed pro. Mr. Oher signed his own contract and negotiated through his agents," Farese said.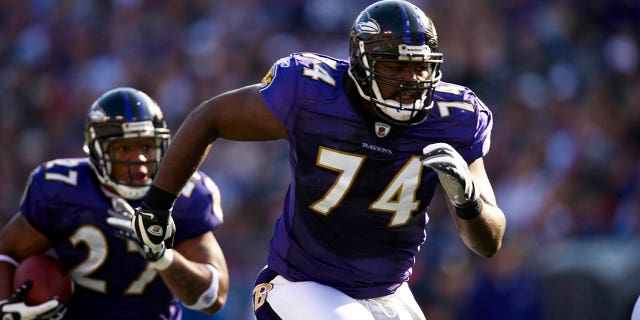 "They don't need his money. They've never needed his money."
Based on the information that has been made public, Haneman said the conservatorship seemed largely "ignored," which raises another potential issue.
"It really looks as though they completely ignored the conservatorship, which begs the question of why it was imposed to begin with when a power of attorney would have sufficed. And all answers point back to the NCAA rules and really using a legal vehicle inappropriately to circumvent NCAA rules."
CLICK HERE TO GET THE FOX NEWS APP
Haneman said the "limited amount of information" from both sides is problematic. She, like many, raises questions over the Tuohys' accusations of a shakedown and the timing of the petition request to end the conservatorship following Oher's recent book release.
Some relief of information may come, Haneman said, with the studio accounting statements, but even that leaves more unanswered questions.
"There's studio accountancy that, to me, will bring transparencies to whether or not they took funds from him that they shouldn't have taken. I think the more amorphous question is did they somehow profit by representing that they had adopted him, which is a legal status, instead of seeking control of him legally through a conservatorship? That's more of an amorphous question without, I would say, a really clear answer."


POST AUTHOR: Paulina Dedaj

Source link