Actor Moammar Rana recently shared an anecdote about his encounter with global star Priyanka Chopra on a podcast with Nadir Ali – one that blew up for all the wrong reasons. Rana and Ali's exchange was called out for being in bad taste, borderlining misogyny and objectification.
Ali, who has been subjected to controversy numerous times for asking condescending questions on his show, once again instigated a rather distasteful conversation about women's appearances without make up. He went as far as asking Rana to comment on women who look "bhayanak (frightening)" without makeup in the showbiz. To this, the actor replied in a negative. "I don't think anyone looks bhayanak in Pakistan," he affirmed.
But when asked about women in India, Rana recounted meeting the former Miss World, who he had had a crush on until he saw her in-person. To this, Ali likened Priyanka to a "maid", alluding that maids look "bhayanak". While Rana held that he could not recognise Priyanka in person, he did not comment on why and simply went on to praise Ameesha Patel for being "genuinely beautiful".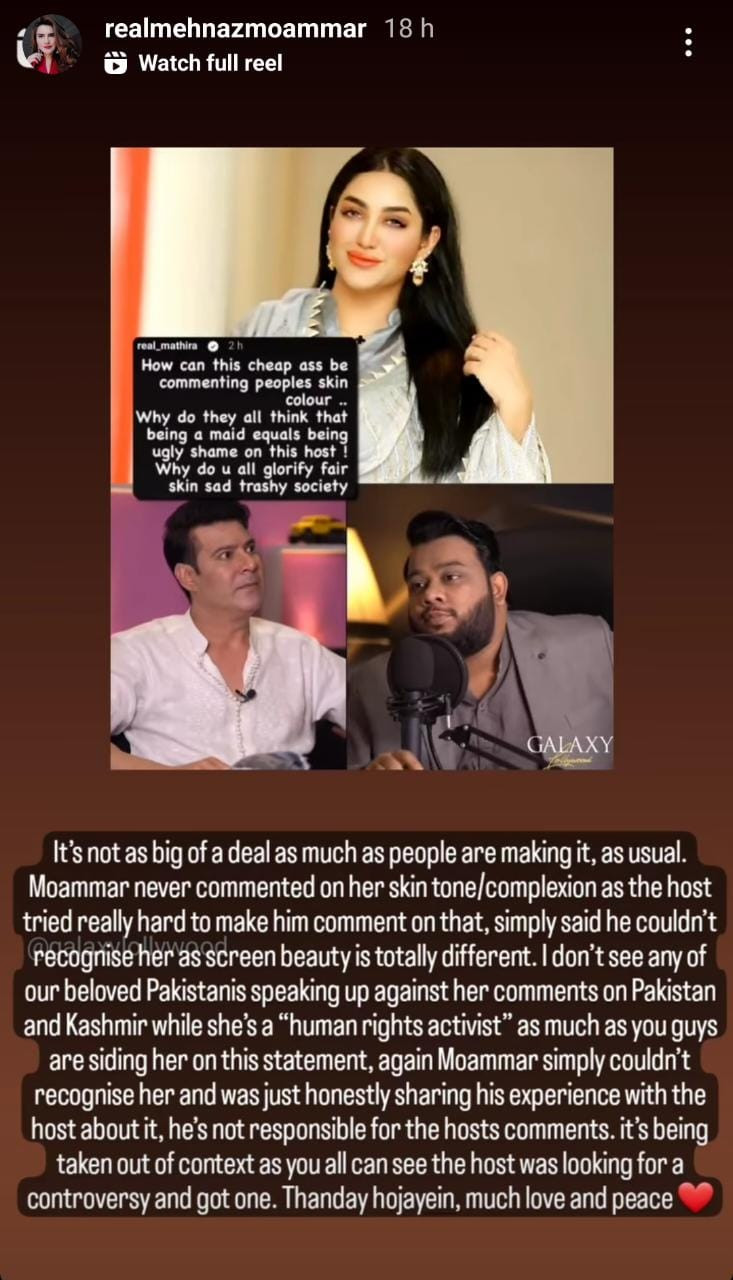 Now, Rana's wife Mehnaz Moammar has come to her husband's defence. In a statement shared on her Instagram Stories, Mehnaz has asserted that Moammar cannot be held accountable for the host's comments and his attempt to create controversy for views. "It's not as big of a deal as people are making it – as usual. Moammar never commented on her [Priyanka's] skin tone/complexion, [even though] the host tried really hard to get him to. [He] simply said he couldn't recognise her, as onscreen beauty is totally different."
Mehnaz went on to reference a tweet that Chopra had made while being a UNICEF ambassador for peace, in support of the Indian armed forces on 26 February, 2019, the same day India conducted airstrikes in Pakistan. "I don't see any of our beloved Pakistanis speaking up against her comments on Pakistan and Kashmir while she's a 'human rights activist' as much as you guys are siding her on this. Again, Moammar simply couldn't recognise her and was just honestly sharing his experience with the host about it. He is not responsible for the hosts comments. It is being taken out of context as you all can see the host was looking for a controversy and got one. Thanday hojayein (Please cool it), much love and peace."
Prior to Mehnaz's justification, many from the showbiz fraternity called out Ali for his pompousness and Rana for partaking in it. Host Mathira had commented on the exchange – a comment that prompted Mehnaz to chime in. She had written, "How can this cheap a** be commenting on people's skin colour. Why do they all think that being a maid equals being ugly? Shame on this host! Why do you all glorify fair skin? Sad, trashy society."
Model Natasha Hussain, too, had shared on Instagram, "This host needs to be a little more educated to be a host! Shameful how he's colour shaming and [calling her] a maid and all! Society is nosediving! This kind of social media [banter] does not help!"
Ali and Rana are yet to comment on the backlash.




POST AUTHOR: Entertainment Desk

Source link