Notre Dame quarterback Sam Hartman made his debut for the Fighting Irish on Saturday afternoon in the first game of the 2023 college football season against Navy.
But before the ball was kicked off and the players entered the field, Hartman was seen with a reminder of what he went through before the 2022 season when he was at Wake Forest.
CLICK HERE FOR MORE SPORTS COVERAGE ON FOXNEWS.COM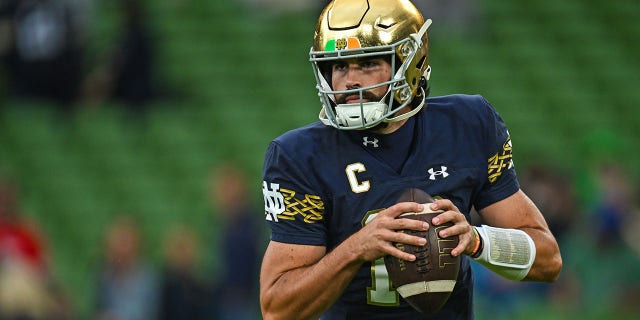 Notre Dame posted a video of Hartman's rib necklace before taking on the Midshipmen.
Hartman explained the rib necklace in July.
He underwent surgery in August 2022 to remove a blood clot due to a condition known as Paget-Schroetter syndrome. The procedure included the removal of a rib near Hartman's collarbone to give the blood vessels more space and prevent future clotting, according to The Athletic.
ALABAMA'S NICK SABAN IMPLORES QUARTERBACKS TO TAKE CHARGE IN BATTLE FOR QB1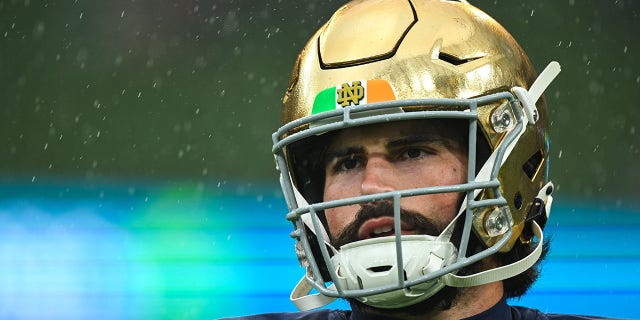 "The rib is good. It's actually clean. It looks like a fossil-type deal. It is well on its way to becoming a necklace. I think we're a couple of weeks out from finalizing it. Just making sure that we take great care of it and make sure that it stays in one piece," he said on "The Paul Finebaum Show" last month.
He only missed one game last year with the Demon Deacons. Hartman threw for 3,701 yards and 38 touchdowns in his final season in Winston-Salem, leading the Demon Deacons to a record of 8-5.
CLICK HERE TO GET THE FOX NEWS APP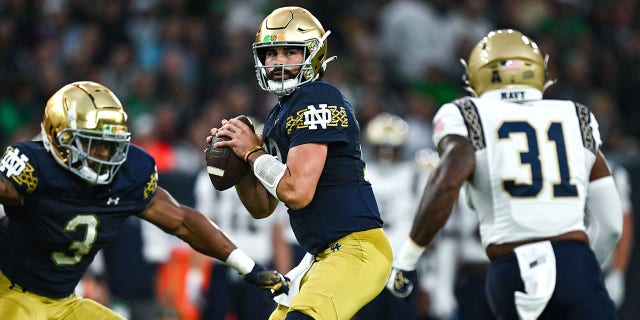 He transferred to Notre Dame before the start of his final year of NCAA eligibility.
Fox News' Joe Morgan contributed to this report.




POST AUTHOR:

Source link