PAKISTAN — All seven students and one teacher stranded in a cable car dangling over a ravine have been rescued.
"Relieved to know that Alhamdolillah all the kids have been successfully and safely rescued," Prime Minister Anwaar ul Haq Kakar said in a post on X, formerly known as Twitter. "Great team work by the military, rescue departments, district administration as well as the local people."
The group had been stuck since 7 a.m. local time Tuesday after a cable line snapped. They were traveling to school in a remote mountainous area in Battagram, about 125 miles north of Islamabad, when the cable car became stranded halfway across the ravine, about 900 feet above the ground.
The car is dangling by a single cable, Shariq Riaz Khattak a rescue official at the site told Reuters.
Initially, five children were rescued, the Pakistan Armed Forces said in a press release earlier Tuesday. The others were rescued later in the day. At least one child was rescued by helicopter and the others were rescued by rope.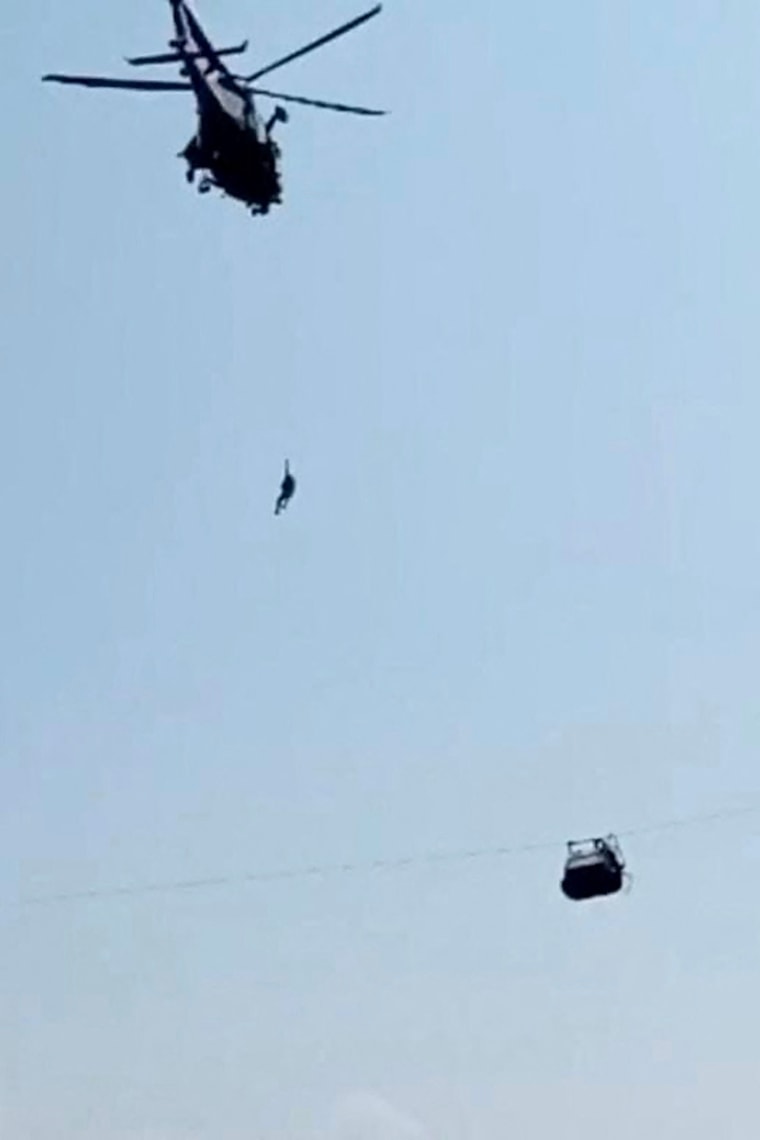 No further details were immediately available.
The rescue mission had been complicated due to gusty winds in the area and the fact the helicopters' rotor blades risked further destabilizing the lift, Khattak had said.
Gulfaraz, a 20-year-old who was on the cable car, had pleaded with officials to act quickly, telling local television channel Geo News over the phone that they were in a "precarious" situation. He said the other students ranged in age from 10 to 15 years old.
The rescue efforts transfixed the country. Many Pakistanis crowded around television sets, as local media showed footage of an emergency worker dangling from a helicopter cable close to the small cabin, with those onboard seen cramped together.
At the scene, crowds of villagers gathered on the vertiginous hillside anxiously watching the operation.
Muzaffar Khan, a district administration official in Battagram, said there were seven students and one teacher aboard, updating earlier reports of six students and two teachers.
This is a developing story. Please check back for updates.
Mushtaq Yusufzai reported from Pakistan; Minyvonne Burke reported from Pittsburgh.




POST AUTHOR: Mushtaq Yusufzai and Minyvonne Burke and Reuters and Associated Press

Source link