Canadian Prime Minister Justin Trudeau on Monday thanked Canadians for their support in his first public remarks about his family since he and his wife, Sophie, announced they are separating after 18 years of marriage.
The two announced the decision in statements posted on Instagram early this month, adding they would vacation as a family. On Monday, as Trudeau returned from vacation, he was asked about how he was doing.
"First I want to thank all the people who have reached out over the past few number of weeks with warm wishes, with personal messages, with personal stories that have been just wonderful and positive," Trudeau said at a news conference in Cornwall on Prince Edward Island.
CANADIAN PRIME MINISTER JUSTIN TRUDEAU, WIFE OF 18 YEARS ANNOUNCE SEPARATION
It was his first press conference since the announcement.
"I got 10 days with the family to focus on the kids, to focus on being together and moving forward," he said.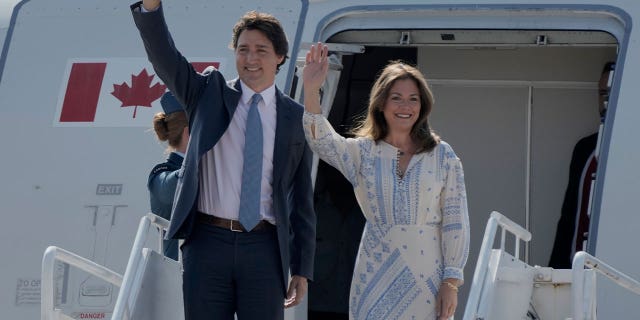 Trudeau, the 51-year-old scion of one of Canada's most famous politicians, was sworn into office in 2015. Sophie Trudeau is a former model and TV host. The couple were married in 2005. Together, they brought star power to the prime minister's office and appeared in the pages of Vogue magazine.
They have three children, 15-year-old Xavier, 14-year-old Ella-Grace and 9-year-old Hadrien.
TRUDEAU OUSTS 7 MINISTERS IN MASSIVE CABINET SHAKEUP
"I really, really, want to thank Canadians for having been so incredibly gracious and incredibly generous in respecting our privacy and our space. It really makes things easier," Trudeau said.
Sophie Trudeau has played a less visible role in recent years, rarely traveling with the prime minister on official trips. The two were seen together publicly at Canada Day events in Ottawa last month.
CLICK HERE TO GET THE FOX NEWS APP
Justin Trudeau and Sophie Gregoire met as children when she was a classmate of his youngest brother, Michel, and they reconnected as adults when they co-hosted a 2003 charity gala.
Trudeau is the second prime minister to announce a separation while in office. His father, Pierre Trudeau, and mother, Margaret Trudeau, separated in 1977 and divorced in 1984 during the elder Trudeau's final year in the prime minister's office.


POST AUTHOR:

Source link