The leader of Spain's conservatives will have the first chance to curry the parliamentary support necessary to form a new government following last month's inconclusive national election, the speaker of Spain's Parliament said Tuesday.
Francina Armengol announced the decision by Spain's King Felipe VI following the monarch's round of meetings on Monday and Tuesday with the leaders of the parties represented in the parliament.
SPAIN'S CONSERVATIVE, RIGHT-WING PARTIES FAIL TO WIN ENOUGH VOTES TO BEAT SOCIALISTS IN GENERAL ELECTION
The Popular Party led by Alberto Núñez Feijóo was the most voted party in the July 23 election. It won 137 seats, but he fell well short of the 176 seats needed for an absolute majority. And Feijóo's chances of gaining the support of other parties to reach that mark appear to be very slim.
If Feijóo fails, then acting Prime Minister Pedro Sánchez would most likely get his turn to stay in power for four more years.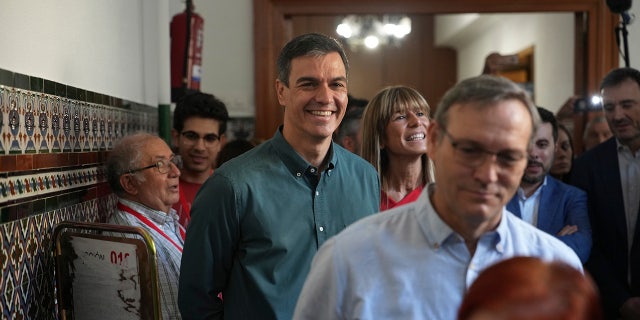 Sánchez's Socialist Party won 121 seats in the election, but it has more support among smaller parties. Last week, the Socialists were able to cobble together 178 votes to elect Armengol, a Socialist, as speaker. To repeat that feat, however, Sánchez would again need the support of Catalan and Basque separatist parties, so neither does he have a sure path to remain in power.
SPAIN VOTES IN ELECTION THAT COULD SHIFT POWER FROM SOCIALISTS TOWARD THE RIGHT, IN TREND FOR LIBERAL EUROPE
Armengol is expected to announce soon the date for the debate and vote for Feijóo's investiture bid.
Feijóo will have two chances to become prime minister. On the first vote, he will need to reach the 176 votes needed. If he falls short, then two days later he would face a second vote where he would need more "Yes" votes than "No" votes.
CLICK HERE TO GET THE FOX NEWS APP
If Feijóo were to fail, a two-month countdown would be triggered, after which, if no candidate can win parliamentary support, the parliament would be dissolved and new elections will be called.


POST AUTHOR:

Source link