The Spanish soccer federation president who caused an uproar after kissing a Women's World Cup player after her team won the Finals in Australia will face an emergency meeting of its general assembly on Friday.
Luis Rubiales, 46, is expected to stand before representatives of Spain's regional federations, clubs, players, coaches and referees in Madrid at noon local time to address why he grabbed Spanish national team forward Jenni Hermoso, 33, and kissed her on the lips without her consent during the awards ceremony following Spain's 1-0 victory over England on Sunday in Sydney.
Local media is reporting that he intends to hand in his resignation.
Rubiales has received no public support from any major sports figure and is under immense pressure to resign after the incident, which he later called "a mistake."
SPANISH FA PRESIDENT LUIS RUBIALES APOLOGIZES FOR JENNI HERMOSO KISS THAT CAUSED OUTRAGE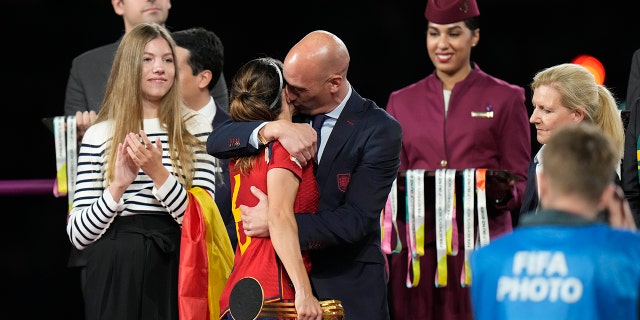 FIFA, soccer's global governing body and organizer of the Women's World Cup, announced Thursday that it was opening a disciplinary case against him and tasked a disciplinary committee with Investigating whether Rubiales violated its code relating to "the basic rules of decent conduct."
The committee would also consider whether Rubiales was "behaving in a way that brings the sport of football and/or FIFA into disrepute."
FIFA's decision came after Spain's acting Prime Minister Pedro Sánchez described Rubiales' apology on Monday as unconvincing and said that "he must continue taking further steps" to be held accountable.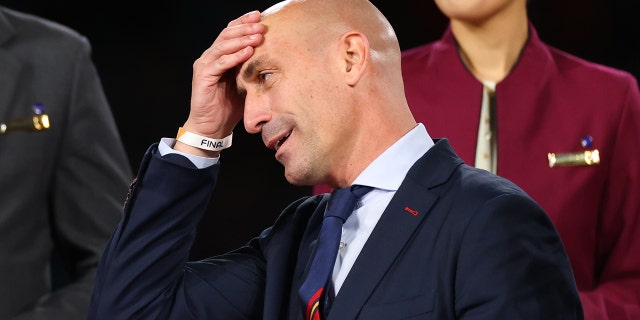 Tens of thousands were in attendance at the Women's World Cup Finals and millions watched online as Spain secured its championship on Aug. 20.
During the trophy and medal ceremony after the game, Rubiales joined the Spanish winners on a podium when the controversial incident took place.
Hermoso responded to the kiss afterward, saying: "I did not like it, but what could I do?"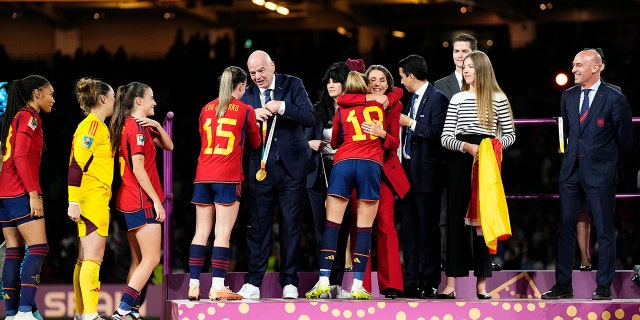 Her players' union, speaking on her behalf, said later that it would do all it could to ensure the kiss does "not go unpunished."
MEGAN RAPINOE RIPS SPANISH FA PRESIDENT OVER WOMEN'S WORLD CUP ANTICS: 'SIGNALS SUCH A DEEP LEVEL OF MISOGYNY'
Following massive backlash from the highly televised incident, Rubiales issued an apology.
"I made a mistake, for sure," Rubiales said Monday, describing the moment he embraced Hermoso, putting his hands over her head and kissing her on the lips.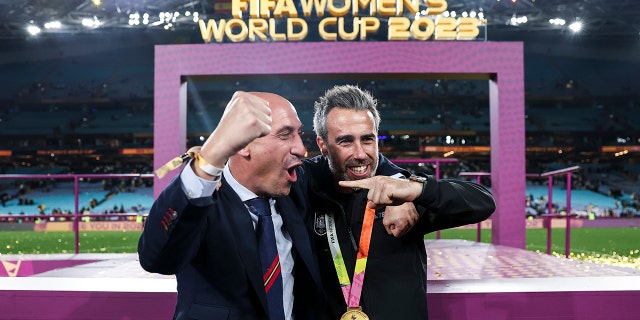 "I have to accept it. In a moment of such emotion, without any bad intention or bad faith, what happened, happened, in a very spontaneous way," he added. "[There was] no bad faith from either side."
"But on the outside it has caused a stir, because people have felt hurt by it, so I have to apologize; there's no alternative," Rubiales explained. "I have to learn from this and understand that a president of an institution as important as the federation — above all in ceremonies and that kind of thing — should be more careful."
The apology came after he initially called those criticizing the kiss as "idiots."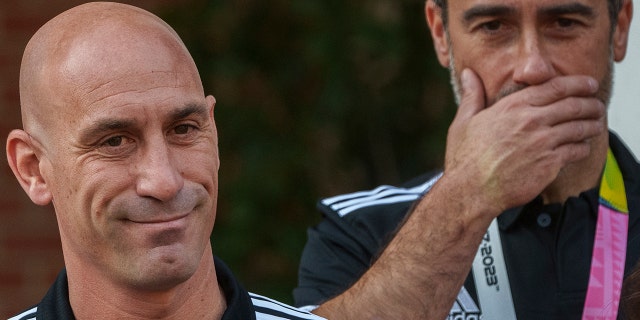 Spanish Equality Minister Irene Montero was among those critics and described his actions as something "we cannot normalize."
"Let's not assume that giving a kiss without consent is something 'that happens,'" she wrote. "It is a form of sexual violence that women suffer on a daily basis and until now invisible, and that we cannot normalize. It is the task of the whole society. Consent in the center. Only yes is yes."
Spain's Higher Council of Sports, the nation's governing sports body, pledged it would act quickly to consider various formal complaints filed against Rubiales to see if he had broken Spain's sports law or the federation's own code of conduct that sanction sexist acts.
Also during the Finals, Rubiales was criticized for grabbing his crotch in a lewd gesture while standing near Spain's Queen Letizia and the 16-year-old Princess Sofía.
CLICK HERE FOR MORE SPORTS COVERAGE ON FOXNEWS.COM
The combination of the gesture and the unsolicited kiss has made Rubiales a national embarrassment and has taken attention away from the Spanish team who won their country's first-ever World Cup title.
Fox News' Scott Thompson and The Associated Press contributed to this report.


POST AUTHOR: Lawrence Richard

Source link