Luis Rubiales, the president of the Spanish soccer federation, refused to resign Friday after causing an uproar for kissing a Women's World Cup player after her team won the Finals in Australia.
Local media reported that Rubiales was planning on stepping down after kissing Spanish national team forward Jenni Hermoso on the lips during the awards ceremony.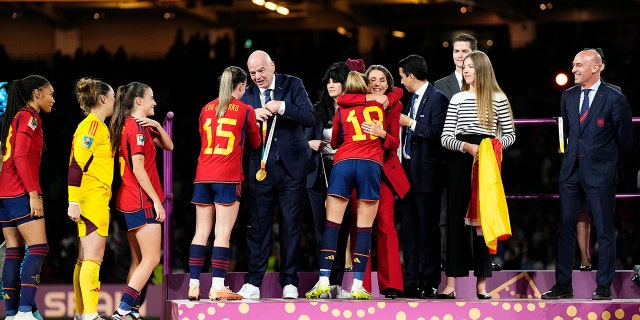 Rubiales spoke in front of an emergency general assembly of the federation on Friday, blasting his critics.  
"We must know the difference between truth and lies," Rubiales said, according to ESPN. "I'm telling the truth. False feminism doesn't look for justice or truth, it doesn't care about people. . . .  [Various politicians] have used terms like sexual violence, assault. What will women who have been sexually assaulted think of that?
SPANISH FA PRESIDENT'S KISS ON JENNIFER HERMOSO AFTER WOMEN'S WORLD CUP VICTORY SPARKS CONTROVERSY
"These people are trying to assassinate me and I'm going to defend myself. The false feminists destroy people. . . . The press, in the majority, will keep killing me but I know the truth, and what my family and the people who love me think. The truth is the truth."
Rubiales repeatedly stated he would not resign from his position. 
"Do you think this [incident] is so serious that I should go, after the best management in the history of Spanish football?" Rubiales said. "Let me tell you: I'm not going to resign. I'm not going to resign. I'm not going to resign.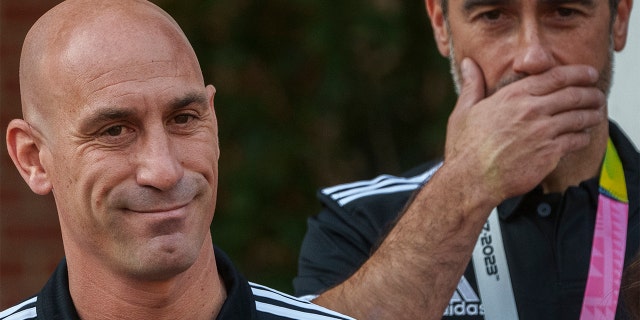 "I've come under a lot of pressure. Perhaps somebody will look to remove me on Monday. But we live in a country of laws. Is a consensual kiss enough to remove me? I'm going to fight until the end. I hope the law is followed, and that as there's no reason to [remove me], it won't happen."
The incident with Hermoso prompted outrage on X, the company formerly known as Twitter. 
CLICK HERE FOR MORE SPORTS COVERAGE ON FOXNEWS.COM
Rubiales initially called critics of the exchange "idiots" before apologizing on Monday.
"I made a mistake, for sure," Rubiales said about the kiss and his reaction, per ESPN.
"I have to accept it. In a moment of such emotion, without any bad intention or bad faith, what happened, happened, in a very spontaneous way. [There was] no bad faith from either side." 
On Friday, Rubiales called the kiss "consensual."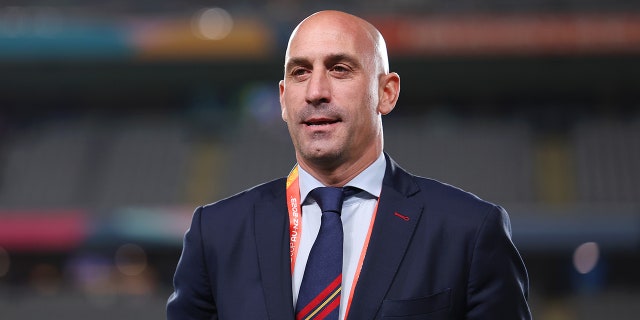 "My desire in that moment was exactly the same as if I'd have been kissing one of my daughters," he said, per ESPN. "No more or less. Everybody understands that. It was a spontaneous kiss, mutual, euphoric and consensual. That's the key.
"[Hermoso] had missed a penalty. I have a great relationship with all the players. . . . In the moment that Jenni arrived, she lifted me up off the ground. We almost fell over. We hugged. I said, 'Forget about the penalty, you've been fantastic, we wouldn't have won the World Cup without you.' She said: 'You're great.' I said, 'A kiss?' and she said: 'Yes.'
"From 'no big deal' and all that, then the pressure starts, the silence of the player and a statement [from Hermoso] that I don't understand. Justice isn't being done here. This is a social assassination of me, they're trying to kill me."
CLICK HERE TO GET THE FOX NEWS APP
Hermoso responded to the kiss afterward, saying, "I did not like it, but what could I do?" However, she downplayed that comment later, telling Cadena COPE that the gesture from Rubiales was "no big deal."
"It was a mutual, totally spontaneous gesture because of the huge joy of winning a World Cup," she said. "The 'presi' and I have a great relationship. His behavior with us has been a '10.' It was a natural gesture, of affection and gratitude. … We've won a World Cup, and we won't get away from what's important."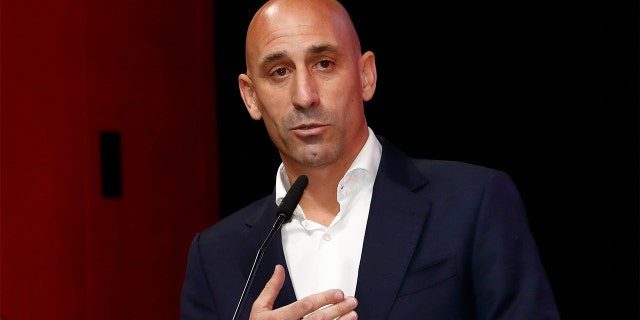 Her players' union, speaking on her behalf, said later that it would do all it could to ensure the kiss does "not go unpunished."
FIFA informed Rubiales Thursday it had opened disciplinary proceedings against him. 
MEGAN RAPINOE RIPS SPANISH FA PRESIDENT OVER WOMEN'S WORLD CUP ANTICS: 'SIGNALS SUCH A DEEP LEVEL OF MISOGYNY'
"FIFA reiterates its unwavering commitment to respecting the integrity of all individuals and strongly condemns any behaviour to the contrary," FIFA said in a media release. 
Following the general assembly, the global union for professional football players – FUTPRO – called for "immediate disciplinary action" against Rubiales. 
"Any lack of action by authorities in addressing the conduct of Mr. Rubiales would send an entirely unacceptable and damaging message to the football industry and wider society," FUTPRO said in a statement. 
Fox News' Scott Thompson and Lawrence Richard contributed to this report.


POST AUTHOR: Joe Morgan

Source link