Taiwan's vice president and front-runner in upcoming presidential elections accused China on Friday of employing unfair trade practices that could be used to influence the voting.
William Lai, in a meeting with foreign journalists in Taipei, said China "will be hoping to interfere in the elections with all sorts of tactics." If they succeed, he said, "it will be an undermining of Taiwan's democracy."
His comments come after China announced on Monday that it was suspending mango imports from Taiwan, alleging that authorities had detected pests on the fruit. The trade curb is widely believed to be politically motivated.
Lai said Beijing was engaging in "unfair trade practices against our agricultural products, potentially in an effort to undermine the coming elections."
Taiwan is due to hold presidential elections in January 2024.
RAMASWAMY VOWS TO DEFEND TAIWAN FROM CHINA UNTIL US HAS 'SEMICONDUCTOR INDEPENDENCE' IN 2028
Over the weekend, Beijing launched war games around Taiwan, a self-governed democracy that China claims as its own territory. China and Taiwan split in 1949 following a civil war that ended with the Communist Party taking control of the mainland.
Beijing has not renounced the use of force as a means of taking control of Taiwan. China's political leadership sees Lai and Taiwan's incumbent president, Tsai Ing-wen, as "separatists" and refuses to speak to them.
The military drills followed stopovers by Lai in New York and San Francisco as part of a state visit to Paraguay earlier this month. Lai decried the exercises as an attempt by Beijing to intimidate voters and influence the January elections.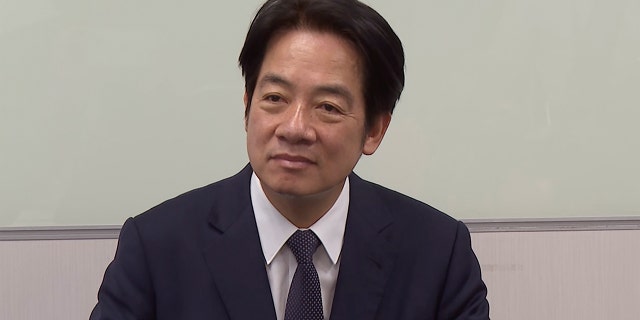 The U.S. Department of State on Saturday called on China "to cease its military, diplomatic and economic pressure against Taiwan and instead engage in meaningful dialogue with Taiwan."
BIDEN ADMINISTRATION APPROVES $500M ARMS SALE TO TAIWAN AS TENSION WITH CHINA CONTINUES TO GROW
While the U.S. does not maintain official ties with Taiwan, it is its biggest source of weapons. American law requires that the U.S. treat all threats to the island as matters of "grave concern."
As the governing Democratic Progressive Party's candidate, Lai leads in most opinion polls over his competitors, Ko Wen-je from the independence-leaning Taiwan People's Party, and Hou Yu-ih, from the more China-friendly Nationalist, or Kuomintang, party.
Lai has said he wants to maintain peace and the status quo in relations with China. Earlier this month, he told a local TV station Taiwan "doesn't want to become enemies with China. We can become friends."
While Lai doesn't describe himself as seeking independence from China, he maintains Taiwan is already an independent country.
CLICK HERE TO GET THE FOX NEWS APP
"Taiwan holds regular elections … I think this shows that it is a fact that Taiwan is a sovereign country," he said.
China recently blasted Lai for using "Taiwan independence" rhetoric.
An official from China's Taiwan Work Office last week accused Lai of using his stopovers in the U.S. to sell out Taiwanese interests to seek election gains and described him as a "troublemaker who will push Taiwan to the dangerous brink of war," according to state media.


POST AUTHOR:

Source link