In a heartwarming gesture, Shaniera Akram, the wife of former Pakistani cricket icon Wasim Akram, took to her Instagram Story to express her gratitude and joy on their 10th wedding anniversary. The couple's enduring love story has captured the hearts of millions, and their milestone celebration has ignited a wave of warm wishes and congratulatory messages from fans worldwide.
The Instagram Story, accompanied by a candid snapshot of the couple, exuded a sense of gratitude and reflection. Shaniera's words resonated deeply with followers and well-wishers of the couple, acknowledging the unwavering support and positivity they have received throughout their journey together.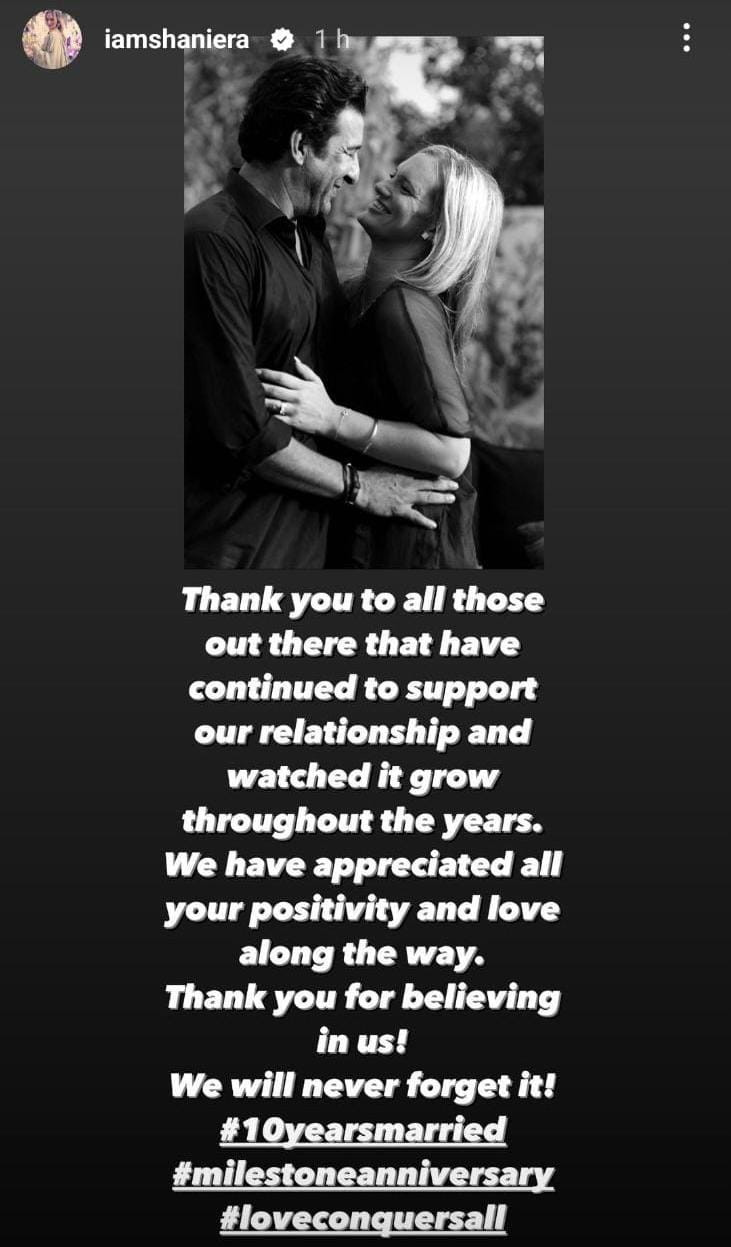 "Thank you to all those out there that have continued to support our relationship and watched it grow throughout the years," Shaniera wrote in her emotional post. "We have appreciated all your positivity and love along the way. Thank you for believing in us! We will never forget it!" The heartwarming post was accompanied by the hashtags "10 years married," "milestone anniversary", and "love conquers all", symbolising the couple's resilience and commitment to one another in the face of challenges. Taking to her Instagram feed, Shaniera shared the same image with the caption, "10 years married and I love you more than ever. Follow your heart. I did and I don't regret a day!"
Shaniera and Wasim's love story has been nothing short of a fairy tale. Their paths crossed in the most unexpected way, transcending borders and cultural differences. Shaniera, an Australian social worker, and Wasim, a cricketing legend from Pakistan, found love amidst diverse backgrounds, proving that love knows no boundaries.
Wasim and Shaniera's love story began in 2011 when the couple first crossed paths at a friend's barbeque in Melbourne. Wasim, a cricketing legend in Pakistan, shared the amusing anecdote of how Shaniera was initially unaware of his fame. "I met her at a friend's BBQ in Melbourne. She didn't know who I was… Eventually, I told her that I was kind of a big deal in Pakistan," he revealed last year on Time Out with Ahsan Khan.
For Shaniera, marrying someone from a different culture and background was a life-changing decision. "You don't marry someone from overseas, from a different culture, background, and generation unless it's something magnificent, right?" she said. The couple's long-distance relationship demanded communication via phone, which allowed them to build a strong friendship before taking their relationship further.
Over the years, Shaniera embraced Pakistan as her home. "Now, for me, Pakistan is the centre of the world. It's an incredible place. I've grown here as a person, as a woman, as a mother, as a wife, and the most important years of my life have been here," she had said on the talk show. The couple also made their acting debut together in Money Back Guarantee this year.
Shaniera and Wasim tied the knot in 2013 in Lahore and have a daughter together, as well as two sons from Wasim's previous marriage.
Have something to add? Share it in the comments




POST AUTHOR: Entertainment Desk

Source link