The Pakistani entertainment industry has recently been rocked by controversy surrounding Hadsa and its subsequent ban by PEMRA (Pakistan Electronic Media Regulatory Authority). Amidst this turmoil, actor Yasir Hussain has taken to his Instagram Stories to speak out in defence of the show's creators, Wajahat Rauf and Shazia Wajahat.
In a heartfelt message shared on Instagram, Yasir expressed his solidarity with his old friends. He stated, "Wajahat and Shazia are my very old friends. And I can say one thing with confidence they do not work for ratings. These people have hearts; they would not cause the heart any pain." 
The actor further continued to state, "In these expensive times, to destroy someone's hard work is not right. To write a drama and get it approved by PEMRA would be better than to have a show banned once it's made."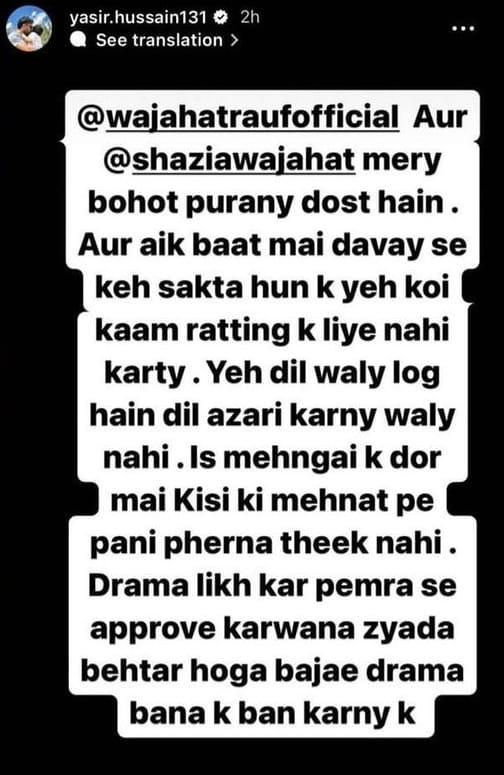 Yasir's defence comes in the midst of a heated controversy surrounding Hadsa, a show that had garnered significant attention before being banned by PEMRA. Many believed that a primary plot in the show borrowed from the 2020 motorway rape case – a fact denied by lead actor Hadiqa Kiani and the showrunners. However, when a journalist took to X (formerly Twitter) to detail how the survivor of the incident felt after catching the show on-air, the internet erupted in untethered outrage. 
Responding to the public's concerns, PEMRA undertook an evaluation of the drama serial. The regulatory authority observed that the storyline of Hadsa was "highly inappropriate, disturbing and not depicting true picture of Pakistani society". The notice issued by the body also read, "Furthermore, the public is of the opinion that portrayal of such heinous act will not only trigger the trauma of that unfortunate victim but would also tarnish the country's image globally and viewers abroad would perceive Pakistan as an unsafe place for women."
Whilst addressing the controversy, Wajahat himself said, "The drama is not based on the motorway incident. The protagonist, her husband, her three children, the family dynamics, the police officers who investigate the crime, the reason behind the crime, and the trial are all fictional. The only thing common is the part that the incident occurred on a highway." 
The filmmaker went on to speak of how crimes of this nature are "heinous" to no extent and that the screenplay aims to "raise awareness." While addressing the claim of insensitivity in the series, Wajahat stated, "The last thing we would want to do is be insensitive towards someone who has been a victim of this brutal crime. It is our opinion that it would be far more insensitive towards the victims if we did not adopt a condemnation tone; in that case, one might argue that we are not at all familiar with the trauma that a rape victim goes through."
Have something to add? Share it in the comments




POST AUTHOR: Entertainment Desk

Source link