"We definitely support the idea from WMIF and would like to see them be successful in completing this project," Deputy Fire Chief Gavin Fujioka told the Maui News last year, referring to Pluta's nonprofit fund with an acronym. 
Maui County Mayor Richard Bissen was supportive of the effort and donated $1,000 toward it, according to Pluta. Pluta said he signed a nonbinding agreement with the previous mayoral administration and the landowner assuring, in principle, that the station would be staffed for use and that the county would provide a fire truck. 
Earlier this year, Pluta promoted the project during an annual meeting for his nonprofit group. 
"We're really worried Lahaina is in danger," Pluta said in a speech available on YouTube, referring to concerns after a fire last year. "Had the wind been blowing downhill instead of uphill like it did, we might not be talking here today because that fire could have just came across like the one did in August of 2018."
Both Nava and Pluta are now homeless. Pluta is staying at a friend's condo in another part of Maui. Nava is temporarily staying at a resort near Lahaina. 
"If the smoke alarm hadn't gone off at 3 a.m. I'd be dead," Pluta said. "A minute more and I would have been dead." 
He said he narrowly escaped death several times on the night Lahaina burned. 
After leaping from his first-story bathroom window, Pluta said he landed on his head, picking up a few scratches and scrapes. He got up to see the window consumed by flames within seconds. His neighbors' houses were on fire, too. Pluta was wearing only a pair of shorts — he didn't even have shoes. 
"Embers and flames were all around me in the wind singeing my body," he said.
Pluta said he headed for the ocean. A fire utility truck happened to drive nearby. In shock and covered in soot, he hitched a ride to a bus, which brought him to a shelter at Maui Preparatory Academy, where other survivors were gathered.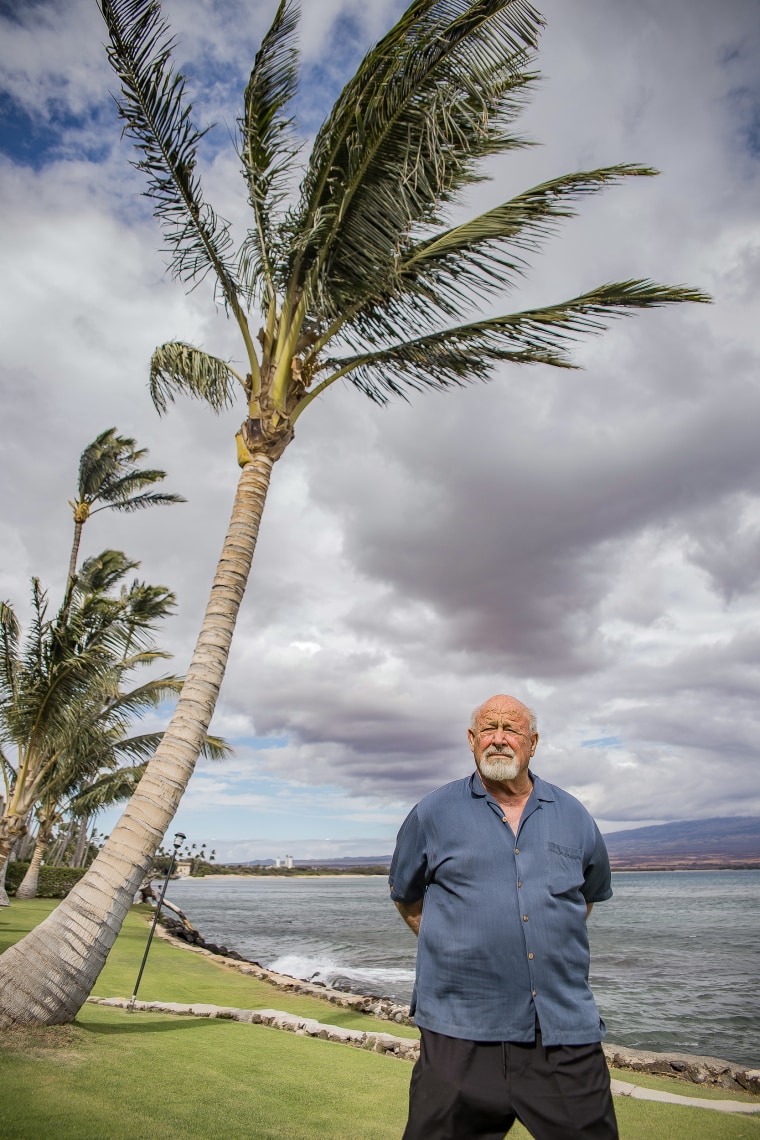 At the shelter, he found a bathroom vanity, cupped his hands and tried to suck up enough water to rinse the soot out of his mouth. Then he climbed a small hill to find cellphone service and called his family. For the Vietnam veteran, who developed post-traumatic stress disorder because of the war, it was the most horrifying night of his life. 
Tourists from Seattle later gave him a T-shirt and a pair of size 13 shoes, oversized for his feet. It was an overwhelming gift for someone who suddenly had nothing at all. 
Pluta and Nava recognize that a single fire station may not have prevented this disaster entirely. But they say community leaders lost sight of their responsibility to public safety in Maui. 
The number of firefighters on Maui has not increased in 18 years, Pluta said, despite growing risk from wildfires. 
West Maui's 2014 community wildfire protection plan, the latest plan available, said "fire safety zones for all neighborhoods and areas of Western Maui" were yet to be determined. 
"The community should not have to build a fire station," Nava said. "It should be built by the government."


POST AUTHOR: Evan Bush

Source link