From Joe Kinsey at OutKick
During a nearly 50-minute conversation, Pro Football Hall of Famer and Super Bowl champion Warren Sapp contended I'm a liar and he was out to set the record straight over what happened Wednesday on a JetBlue flight from Medellín, Colombia to Fort Lauderdale.
In a video posted to Sapp's Instagram page that has received considerable attention and questions, Sapp records a confrontation (Warren says it can't be a confrontation because it's not face-to-face) with a female passenger who claims to be a Miami-Dade police officer.
What caused this? What's the context? Why the emotions?
CLICK HERE FOR MORE SPORTS COVERAGE ON FOXNEWS.COM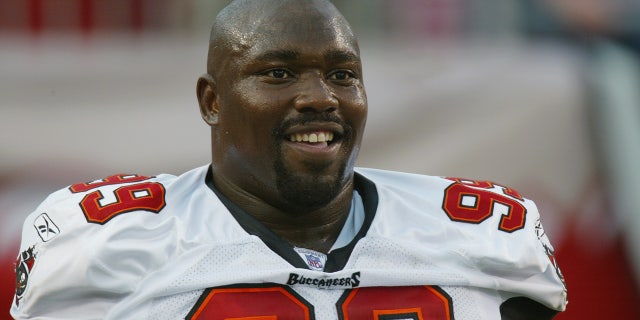 The question I and numerous Instagram users wondered was what led to the alleged Miami-Dade officer bringing up the No Fly List and asking for JetBlue flight attendants to solve the situation. Sapp says today's post on OutKick where a passenger, DJ Jean Sean, who was seated in front of Sapp, says the NFL legend "was a complete piece of s–t the entire time" on the flight to Fort Lauderdale is full of lies and OutKick made a major mistake trusting a source who was wearing headphones and didn't hear what was going on.
Warren, who was asked for comment before the original post went live, connected with OutKick Thursday afternoon and he wasted no time diving right into the story.
"Did you hear the DJ say he had his headphones on, so he couldn't hear?" Sapp asked as the phone conversation got rolling. "You know why the DJ didn't hear anything? Because I didn't speak to anyone but Diane, the flight attendant."
"It's funny you didn't do any investigative reporting before you reported this story with one source," Sapp continued. "I was in the reporting side of the National Football League for seven years on two different networks and I was suspended for 30 days for going on one-source information."
In 2012, Sapp was suspended for 30 days after saying on NFL Network that Jeremy Shockey was the "snitch" in the New Orleans Saints bounty-gate investigation.
To listen to DJ Jean Sean's explanation of the incident, the videos can be found here
Not satisfied with the explanation that his airplane video was a video source, that a source was giving his side of the story and that he was given a chance to comment, Sapp continued his full-court press on how today's story on his flight behavior was all lies and he was being wronged by the DJ — whom he insisted was my friend — and OutKick.
"I trusted that source with my life and my children. Do you trust this DJ with your life and your children?" Warren fired back.
After getting that out of the way, and further back and forth, Sapp says he didn't have any beef with the lady sitting behind him. He says there was interaction with an older lady next to the woman who claimed to be a cop.
The sackmaster who squashed quarterbacks 96 1/2 times during his NFL playing days says he and an older lady a row back had been conversing after getting on the flight early due to her needing assistance and Warren having JetBlue's Mosaic status, which allows for early boarding.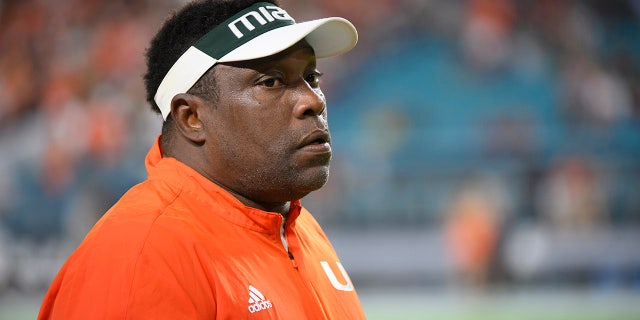 Sapp says he and the old lady witnessed a gentlemen misread his ticket and the man ended up in the wrong row and had to go back to the front of the plane. The man's bag ended up against Sapp's leg.
"I lean back to moms and said, 'You see this?' She leans up and says 'Oh my god, his bag,'" Sapp recalls. "I said, I got it. I'm in full chill mode. I just want to go home right now, so I look at him and say, 'Excuse me sir, your bag.'"
The man apologizes for resting his bag against Sapp's leg.
"I said if you wouldn't have confused two and 14 (he jokes the numerically challenged have issues on planes) and we have a laugh about it. So your DJ friend is just saying things without anything to back up what he's saying," Warren continues.
WARREN SAPP ALLEGEDLY CAUSES MAJOR DRAMA ON FLIGHT, CHALLENGES PASSENGER TO 'FACE TO FACE' IN GAINESVILLE
Then he goes back to saying the DJ had headphones on before pivoting to a story about how there were like two big black men on the plane.
"If you know anything about South America, the darker your skin, the worse treatment you get," Warren rolls on before asking me if I knew that.
No, I've never been to South America, Warren.
"Oooo, might have to take you on a visit, Joe, get you a little insight because you can't feel something that you can't see with your own eyes or feel when someone walks up on you and says 'my color.'"
Ah, OK.
Warren and the older lady behind him in the middle seat go back to talking and giggling because they're now flight friends
"I was laughing with the old lady. She was like, 'I have the craziest flights.' I said, baby you have no idea. I tell my friends all the time there's a sign on my forehead that says, 'F with him' and it flashes like Krispy Kreme. Now serving hot," he says.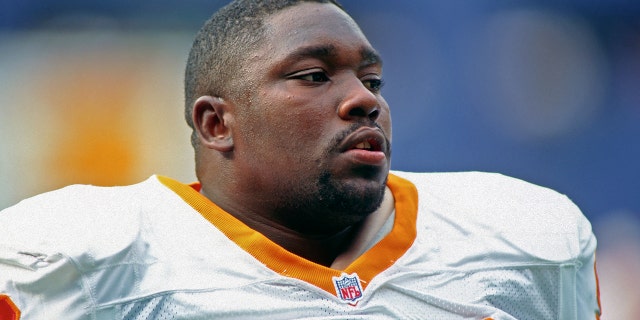 We're now to the part of story time where a lady and her husband end up seated next to Sapp, who greets them in Spanish. Everything, according to Sapp, is cool, the flight is going to go smoothly and everyone is headed to Fort Lauderdale all relaxed.
"I never put my armrest down. It's just a barrier that doesn't need to be there. I'm going to lean up against the wall, you lean up against your husband and we're going to have a good flight," Sapp explains.
"No. This lady has her phone out in full gorilla mode with her elbows out mashing her TikTok and it's in Spanish language or music [Sapp rattles off a few sounds as if he's speaking Spanish]. I pull my headphones off and I look at her and I say, 'I know you have a pair of headsets. This is a three-hour flight.'
"She's sitting there mashin' it. Mashin' it. That's the first thing."
That's right, we're starting to heat up here.
CAM NEWTON SUGGESTS FLORIDA DOCUMENTARY SHOULD HAVE SHOWN MORE RESPECT TO CHRIS LEAK
"Now, the Spanish lady looking at me as a big black man…can't tell her what to do with her phone. I knew exactly what this was. So now it becomes an issue not with her phone, she's elbowing me in the ribs," he continues.
"I put the armrest down. 'Oh no, oh no, you can't put that armrest down,'" Sapp claims the lady told him.
"I said, 'Ma'am this is my armrest.'"
Sapp asks me if I know JetBlue has three armrests. I explain how I've never flown JetBlue.
"Alright, well look it up," he fires back.
"There are three armrests. I put my armrest down. She had an issue with my armrest."
Sapp says he explained that if she leaned two inches towards her husband there would be a barrier between them. She gets the message and leans towards her husband. Sapp proceeds to raise the armrest "because I don't want this in my ribs either."
At this point, Warren proceeds to go off-topic and accuse me of promoting lies and airs other grievances and wonders why OutKick is picking on him.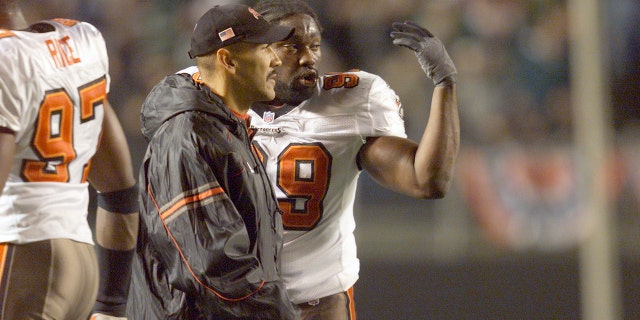 "I'm 50 years old. I've done all my ass-kicking. It's up in the clouds. You can go to the hall of fame and push a button and the QB Killa comes back alive. I have no interest in a confrontation or a discussion or any of this, sir," Sapp rattles off.
"This lady decided she didn't want to sit there because whatever reason."
The couple, according to Warren, gets up and goes to the back of the plane.
Sapp says this is when he turns around to the old lady in the middle behind him and this is when, according to the Killa, the lady up against the window enters the discussion.
He claims the alleged cop tells him to "Shut the f–k up. You don't know who the f–k I am. I'm Miami-Dade police and I'll have your ass put on the No Fly List."
EMINEM SALUTES JETS ROOKIE AFTER ODE TO LEGENDARY RAPPER ON 'HARD KNOCKS' GOES VIRAL
Killa hits record on his phone and that's when the Instagram content starts rolling.
"In what part of this am I the aggressor, Joe,?" Warren asks.
And that's the Warren Sapp defense.
He adds that a JetBlue representative met him at the gate in Fort Lauderdale and everything was cool. They dapped and Warren rolled on out.
Warren Sapp drags this blogger like I'm some practice squad piece of meat
The next 25 minutes of our call could've been narrated by NFL Films legend John Facenda in one of those videos where Facenda describes in great detail how defensive linemen used to murder opposing quarterbacks.
Sapp had me on the ropes. He wanted contact information for my boss. He wanted all of the Instagram messages I'd collected from DJ Jean Sean. Sapp was relentless like he was chasing Favre, but in reality, I'm just some loser blogger with a microphone.
I tried spin moves. I dodged as best I could.
Sapp, who once played the role of a judge on a short-lived series titled "Judge Sapp," just hammered away with questions.
"Why would you trust this DJ with his headphones on?"
"What kind of reporter are you?"
I'm not sure that's an exact quote, but you get the point. He was sack dancing on my grave. It was like I was Chad Clifton'd.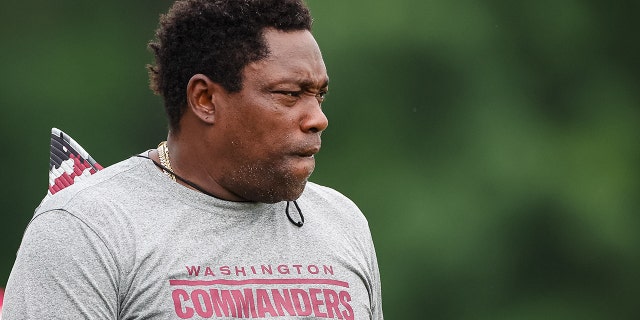 Back and forth we went with the call.
We had technical difficulties trying to play videos. We worked through our problems. Warren and I even seemed to find common ground over Twitter DM videos being junk. It was refreshing to find us sharing a quiet moment where it wasn't contentious.
CLICK HERE TO GET THE FOX NEWS APP
And that was about it.
I was hungry. The QB Killa just destroyed me for 44 minutes. He might've been hungry as well. Who knows.
Off we went.


POST AUTHOR:

Source link