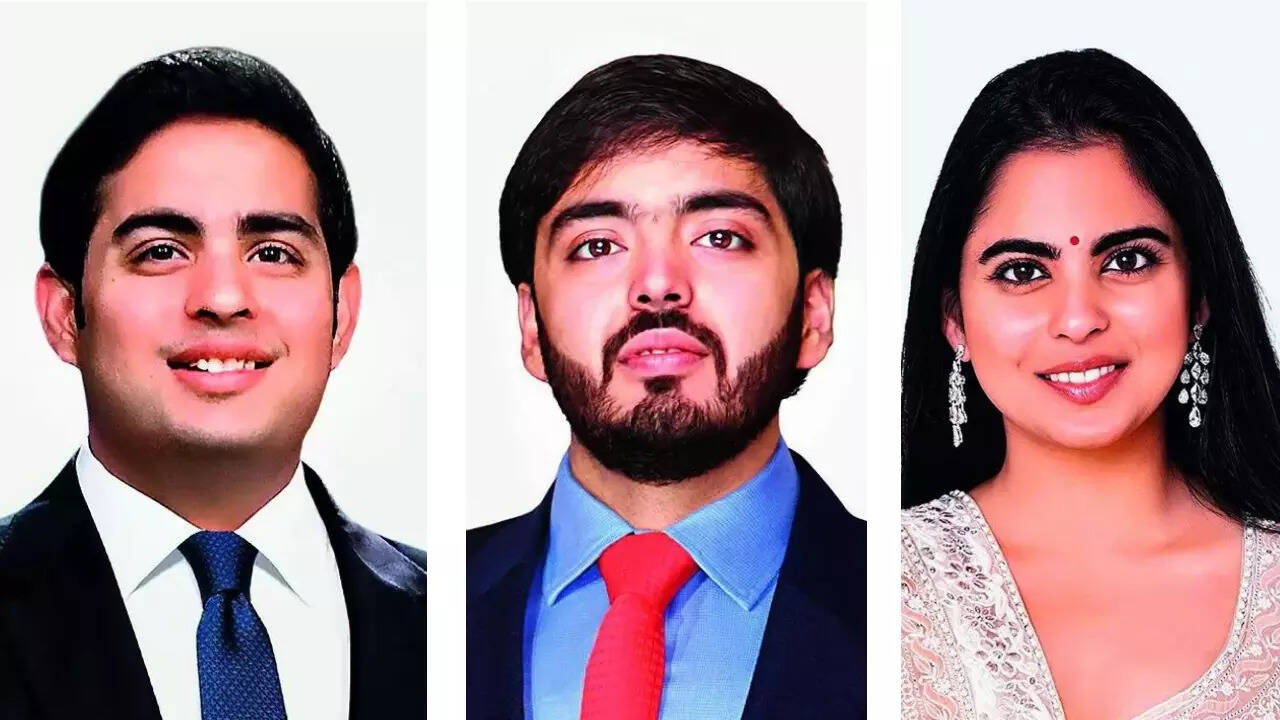 MUMBAI: Reliance Industries, India's largest company in terms of market value, has appointed chairman and managing director Mukesh Ambani's three children — Isha, Akash and Anant — to the board, an indication that they will eventually helm the oil-to-telecom conglomerate.
Ambani will be chairman for five more years even as his wife, Nita, has stepped down from the board to focus on philanthropic activities. He said his children have "earned their stripes". Ambani said Nita will continue to attend RIL board meetings as a permanent invitee in her capacity as the chairperson of Reliance Foundation.
At present, the three Ambani children are on the boards of operating business companies.
'I see both my father & me in Isha, Akash and Anant'
This is truly an emotional moment for me because it reminds me of that day in 1977 when my father inducted me into the board of Reliance… Today, I see both my father and me in Isha, Akash and Anant. I see the flame of Dhirubhai shine in all of them," Ambani said. He said he would mentor them for leadership roles, preparing them for challenges and opportunities. "I shall continue to perform my duties and responsibilities as chairman and managing director for five more years with greater vigour," he added.
In recent years, Ambani has been outlining succession plans for various businesses under RIL. Akash (31) is the chairman of Reliance Jio Infocomm, Isha (31) drives the retail business and is on the board of Jio Financial Services — the newest business from RIL — while Anant (28) is involved with the energy unit. RIL said their appointment as non-executive directors will take effect from the date they assume office after shareholder approval.
Ambani joined the board of RIL in 1977 — the year the company got listed — at the age of 20 and became its CMD after his father and RIL founder Dhirubhai Ambani died in July 2002. The 66-year-old CMD has secured a term till 2029 after his current tenure expires in April 2024. According to company law, if an individual crosses the age of 70 for the CMD position, then it requires a special resolution by shareholders for him to be appointed beyond that limit.
Monday's announcement is a clear indication that Ambani, who was in an inheritance dispute with his younger sibling Anil Ambani, is preparing to hand over the reins to his three children. While Ambani got the flagship RIL, Anil secured telecommunications, power and financial services. The two warring brothers subsequently called it a truce, which then allowed Ambani to re-enter telecom and now financial services businesses.




POST AUTHOR: Reeba Zachariah

Source link